A few months ago, I wrote about how customers' journeys are a determining factor in the success of your business from a client acquisition and experience perspective. But because it's easier said than done, in this post, I'll be sharing how you can build a great customer journey step-by-step. So grab a seat.
A Quick Refresher
For those who haven't read my previous blog post—which I advise you to do—let's start at the beginning: What is a customer journey? In a nutshell, it's the visual representation of your customers' relationship with your organization, brand, product, or service over the course of time, providing you with a detailed understanding of their real feelings and motivations.
In other words, it's about perceiving the emotions, feelings, and desires of your end-users so you can meet their expectations and needs whenever they're interacting with your business.
From Business Processes to Customer Journey: On the Path to Transform Your Business
Business processes definitely play a relevant part in the success of your company, but it's important to be sure that you do not get so caught up in internal resources that you lose sight of your real end-users. After all, business processes are not the same thing as customer experience. At the end of the day, no matter what kind of business you have, whether it's B2C, B2E, B2B or any other acronym that starts with B, you can't forget the people you're dealing with.
So, rather than thinking of the journey from a business process perspective, the customer journey map is based on your end-users actions and intentions. It gives you the bandwidth to identify opportunities and an unbiased understanding of what the customer experience is like.
The logic is simple: by meeting and exceeding customer goals, you get happy customers willing to provide feedback and insights, increase brand awareness in their networks, and carry out lasting relationships. It's a win-win.
Designing Your Customer's Journey
Now, let's get to what brought me here today. Here are 7 easy steps for building your customer journey map and delivering a great user experience. You can print this infographic and hang it on your wall or desk—or whatever your Feng Shui says you should do. Hope you enjoy it!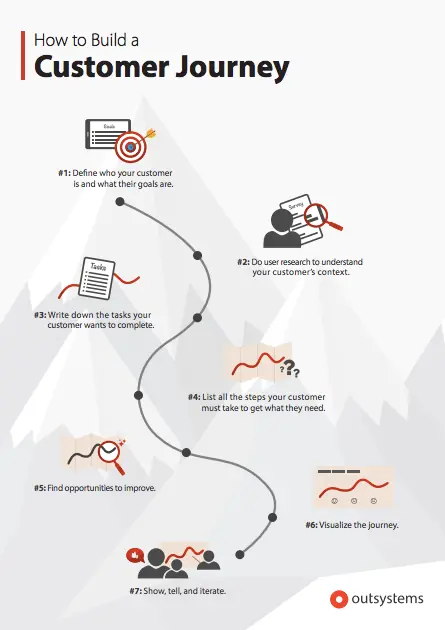 Extra, Extra!
Last but not least, here's a version of the customer journey map template mentioned in our infographic for you to edit in Powerpoint [.pptx format, 945.1 KB] and Keynote [.key format, 1.644 MB, zipped].