Let's be honest: when you picture an Intranet, you're most likely thinking of an old and outdated communication portal difficult to navigate. Nevertheless, in the digital age, a powerful Intranet portal can be a crucial asset for your business efficiency.
At ISCTE Junior Consulting, we were confronted with daily challenges when accessing information and resources. To streamline our processes and break silos between the several departments that compose our organization, we set out to build an Intranet from scratch. 
Given that it would mostly be used by students—demanding Gen Zers who expect effortless and pixel-perfect experiences—we knew we needed a platform that kept up with their expectations.
In this blog post, I'll share our Intranet's detailed experience that continues to evolve and to keep up with this fast-changing COVID-19 world.
Introducing ISCTE Junior Consulting 
ISCTE Junior Consulting (IJC) is a Junior Enterprise led and managed by the best students of ISCTE. Our strategy and development is grounded in, essentially, three fields: consultancy, training, and investigation, providing sustainable development and learning opportunities to our members.
Currently, our structure is composed by five different departments: Strategy and Management, Finance, Marketing, Human Resources, and IT, and 68 members of varying study areas from Business Management to Computer Science.
ISCTE Junior Consulting offers a rich service portfolio, including Market Research, Business Strategy, Marketing, Human Resources, Corporate Social Responsibility, and IT. Over the last ten years, our members have delivered over 100 consultancy projects to renowned companies.
Creating an Intranet for Gen Z
Among the several challenges we faced daily to access information and resources, the most glaring one was related to our recruitment process. It was long and required the involvement of all our members and many resources throughout the five phases every candidate has to pass. Plus, the whole process was still very manual, and our HR department spent a lot of its time on document processing. 
That said, we needed a platform that would allow us to break the silos between the different teams involved in the recruitment process and to reduce the time our HR department spent on documents to make the whole process faster and more efficient.
And so, we set off to build an Intranet portal. But we didn't want just another old-fashioned portal. In an organization led by young and enthusiastic students, we wanted our platform to meet the spirit and expectations of our users. Used to the simplicity and easiness of apps like Uber and Airbnb, we knew that a good user experience would be key to ensure our Intranet's adoption and reap the efficiency gains we wanted to achieve.
We chose the OutSystems platform to support our development needs for three main reasons:
The visual development approach would allow our IT team to enhance their development skills and experience.
The speed of development would give us the power to deliver the solution faster.
The flexibility of the platform would give us the freedom to quickly change and adapt our solution as we needed.
The OutSystems UI framework was also crucial to meet the UI requirements we had by providing the roots for the whole user experience.
What initially started as an Intranet portal to support our recruitment needs, quickly evolved into a more complete platform that eased our processes' workload and centralized all our resources with innovative features to boost productivity and alignment.
Let's take a look at the users' journey.
1. Intranet Overview
Home Page:
On the homepage, members have access to a calendar with all ISCTE Junior Consulting's events and latest publications.

Personal Profile:
Each member has a profile with their personal data and details about  interests and projects they have participated in.

Members' Contacts:
Users can also access a list of all the members and their contacts.

Seat Reservation:
With the COVID-19 pandemic, it was necessary to control the number of people working at the same time in the headquarters. So, we created a Seat Reservation System that allows us to know the number of available seats per  hour, and respect all the safety measures required.

Individual Development Plan (IDP):
Every semester, all members register their goals and expectations for the upcoming months, including a tailored-made IDP, built with the support of each Department Director and monitored by the Human Resources Department.

Gamification:
In addition to the Individual Development Plan, there is a Gamification Program in which individual, departmental, and organizational objectives are established. For each goal achieved, members receive a certain amount of points that can then be exchanged by rewards.

2. Recruitment Process
Both the recruitment and the selection processes of ISCTE Junior Consulting are integrally managed in the Intranet. This module allows the Junior Consulting members to access information about candidates and review the feedback from the previous phases.
To maintain professionalism and guarantee the confidentiality of the entire process, only the HR Department members have access to all the information about candidates. Consequently, the remaining members can only edit the candidate's information in the phase they were allocated to evaluate. 
Application:
All applications become available on this platform once submitted by the candidate, including the CV and the candidates' Presentation Video.

Candidate:
The information of each candidate is presented in their individual page, where it is possible to evaluate, approve or reprove candidates throughout the different recruitment phases.

Recruitment Phases:
There's also a page for each recruitment phase (Group Dynamic exercise, Human Resources Interview, and Technical Interview) where members can access, per phase,  the candidates that have enrolled, the interviews needed, and check who's the member responsible for each phase.

Tasks:
For a more organized process, there's a page where members can check the status of their tasks and see in which "group dynamic" or interview they'll participate. 

3. ISCTE Junior Consulting's Board
The Board members have access to a module where they can manage members' workload and business partners, and the  performance of all projects.
Members Management:
On this page, the board members can see all members' workload for each week of the year and per project. This allows better resource management, as the process of creating teams takes into consideration up to date information about the availability of the members registered in this page.

Project Management:
This section registers all projects, members and coordinators allocated for each project,  deadlines, and their milestones.

Partners Management:
All the partners are on a list where the Board members can consult their contacts and important documents regarding the partnership.

An Ever-Evolving Intranet
Today, all 68 members of the ISCTE Junior Consulting use the Intranet daily and we're already planning to expand its features.
In the meantime, our IT department has already built another platform that is now in the testing phase, where members can register their tasks, meetings and other information about their projects and departments. This Project Management platform, built in less than six months with OutSystems, will track all members' work and define consultancy project proposals based on more realistic and localized information.
Furthermore, we believe that each platform must be customized to the organizational needs and, therefore, by identifying future needs of improvement in our Intranet, we will be able to innovate and optimize ISCTE Junior Consulting processes.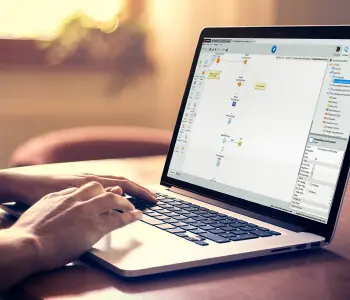 Use OutSystems Now!
Get your first app built in a few minutes.
It's free forever.