The low-code market is rapidly growing in the software industry. According to Gartner, by 2025, 70% of new applications developed by enterprises will use low-code or no-code technologies.

Table of contents:
Because low-code is now mainstream, we see new vendors joining the market every year. To help you navigate through the noise of this now crowded landscape, in this blog post, we'll explore a few low-code statistics and flavors to help you find the right solution for your business needs.
Why the sudden low-code market growth?
Low-code platforms enable business users and professional developers to create applications with visual programming, reducing the need for hand coding and accelerating developer productivity.
So, it's not a surprise that in a time when customer expectations are constantly changing, companies are looking for tools that can support hybrid work, and competition is becoming fiercer than ever, low-code is on the rise.
According to the latest Gartner Magic Quadrant for Low-Code Application Platforms, there are essentially 3 trends leading to low-code adoption.
IT democratization
On average, 41% of employees in an organization are "business technologists," that is, collaborators outside IT departments who create technology or analytics capabilities for their own use. Because most of them don't come from a traditional development background, they primarily rely on low-code and no-code tools to create the solutions they need.
Hyperautomation
The orchestration of multiple advanced technologies that promote end-to-end business process automation is called hyperautomation. Together with robotic process automation tools, artificial intelligence, and machine learning, low-code has emerged as a key tech solution for supporting successful hyperautomation automation initiatives.
Composable business
An enterprise that consists of interchangeable building blocks it can use to rearrange and reorient as needed in response to internal or external factors is known as a composable business. Composable businesses use a framework that includes composing apps by assembling and combining components. As organizations adopt a composable mindset, low-code technology plays a key role by promoting a component-based architecture and reusability of services, functionalities, and capabilities.
How big is the low-code market?
Low-code platforms are not new; OutSystems, for example, was founded in 2001. But over the past few years, we've witnessed an increasing demand for it. For example, from 2016 to 2018, the number of low-code providers increased from 40 to 60. Today, according to several sources, the number is more than 200.
For organizations to reap the benefits of low-code platforms, however, they need to select the right vendor, one that can act as a true digital transformation partner and empower businesses to innovate as the market demands.
But making that selection can be pretty daunting as low-code capabilities can vary widely.
Understanding the low-code market landscape
Just like any other technology, not all low-code platforms are created equal, and as such, not all are suitable for the same use cases.
If you're currently evaluating low-code for a certain project, three criteria can help you understand the low-code market:
Who is the targeted user of the platform?
What functions and features does the platform include?
What use cases does the platform address?
With that in mind, the low-code market can be grouped into three main categories:
Regular low-code
Enterprise level low-code
High-performance low-code.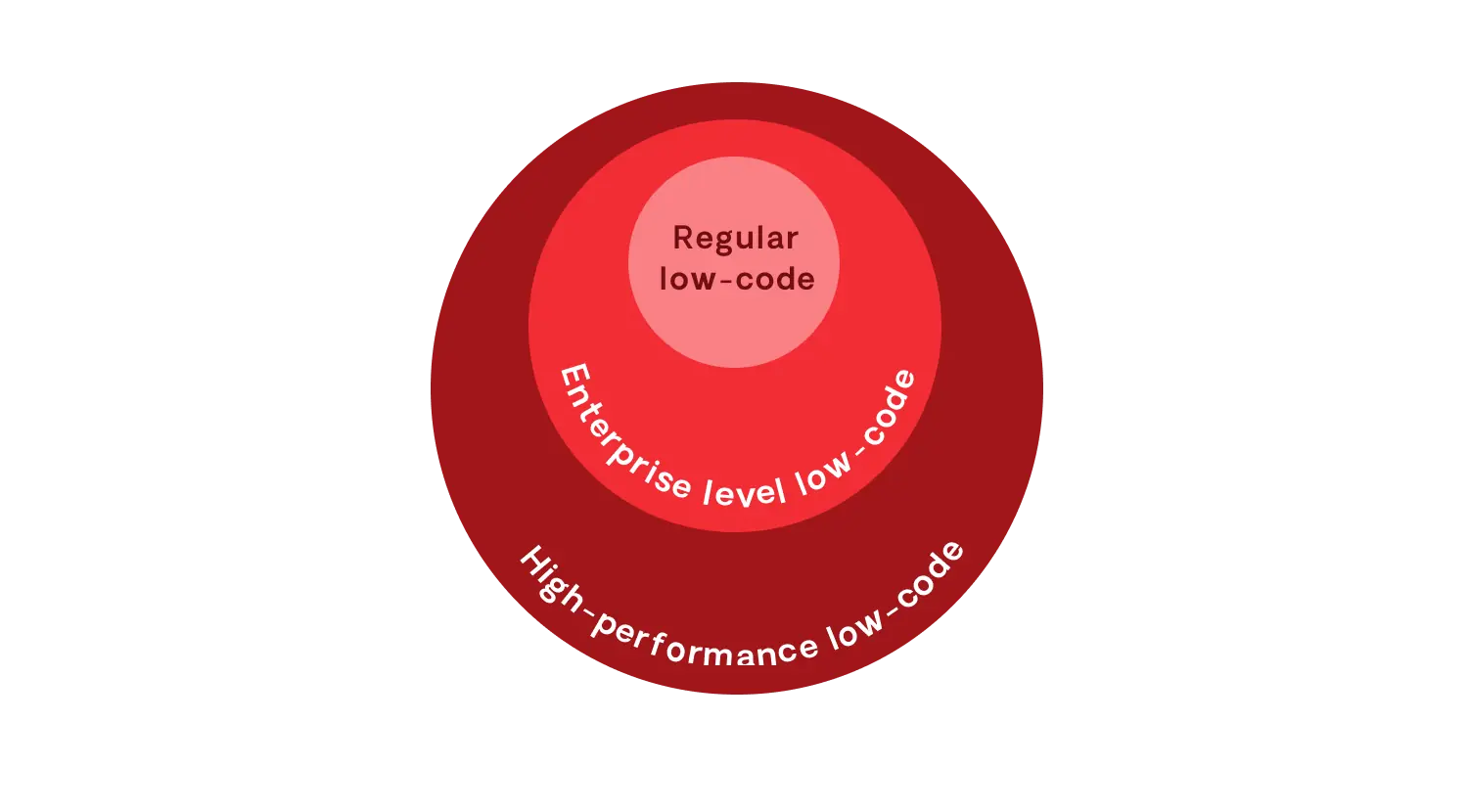 1. Regular low-code
Who is the targeted user of the platform?
The low-code platforms in this category often offer higher levels of code abstraction to empower business users or citizen developers—in other words, users with no development background—to create the applications they need to use daily.
What functions and features does the platform include?
They include almost exclusively "basic" low-code capabilities like model-driven or graphical programming approaches with scripting.
The more simple tools are also categorized as no-code, offering the opportunity to build simple applications completely visually without any programming knowledge. Personally, I'm not sure low-code and no-code should even be in the same bucket, but I'll leave that to another article.
What use cases does the platform cover?
Regular low-code platforms are designed to meet departmental-level needs, like a vacation request or an approval routing app.
2. Enterprise-level low-code
Who is the targeted user of the platform?
Enterprise low-code platforms mostly target professional developers. However, some may also empower business users to create simple workflow applications and deliver them to IT for deployment outside their departments.
What functions and features does the platform include?
Low-code focusing on process automation has more bells and whistles than "regular" low-code platforms designed for building simple apps. Therefore, it includes more advanced low-code capabilities to solve simple to complex workflows.
What use cases does the platform cover?
This category solves the need, at the enterprise level, to digitalize workflows, from business processes to case management.
In other words, these platforms are perfect for addressing anything that can be solved with automation and workflows, from an expense approval process to claims handling to shipping and distribution.
Unfortunately, not everything can be solved with workflows. So for use cases related to customer experience that require more personalization, these platforms tend to fall short.
3. High-performance low-code
Who is the targeted user of the platform?
High-performance low-code includes the more modern and advanced low-code platforms and targets primarily professional developers. However, it also offers companies to take a fusion team approach, which provides visual capabilities, guardrails, and governance to promote the involvement of business stakeholders in the development process.
What functions and features does the platform include?
High-performance low-code provides end-to-end application development and updates. No additional licensing, no scalability issues, and no data "do-overs" for updates are needed as organizations move from department apps to enterprise-wide software.
It differs from the other two categories based on 4 characteristics:
Full-stack development: Development teams can build any type of software solution, from user interfaces, frontends, backends, and automation while becoming cloud-native powerhouses without learning new skills. They can use the platform's out-of-the-box capabilities or extend the platform capabilities with custom code to ensure they never hit a wall.
Hyper-agility: High-performance low-code provides capabilities such as reusable components, connectors, UI components, and embedded DevOps (or integration with existing DevOps tools) to enable the development of pixel-perfect, robust, responsive, and AI-driven consumer applications and experiences–as well as internal apps, portals, and core systems–and change them as soon as it's required.
High-security: This type of platform takes low-code security to the next level by not only providing embedded security mechanisms and automatic validations but also by generating source code that can be scanned for security vulnerabilities and issues.
Colossal scale: Apps built with these types of low-code platforms can quickly expand from department-level with a handful of users to ones that handle millions of simultaneous users when needed–without affecting speed and performance. Its next-generation visual, model-driven development tools with elite-level CI/CD practices turn dev teams into a cloud-native innovation factory.
What use cases does the platform cover?
High-performance low-code is designed to tackle complex, strategic, mission-critical consumer and internal software. In other words, organizations can build anything they need without the complexity of traditional development, or the limitations of simpler low-code platforms.
Want to explore what is the best low-code platform for your use case? Check out this article
What's the right low-code platform for you?
This categorization doesn't mean that one type of low-code platform is better than another; it always depends on your needs.
If you just want to empower your line of business to build simple apps, the first category is enough. But if you're looking for a technology that supports your digital transformation initiatives, you should look for high-performance low-code.
Also, don't rush into anything. It's always possible that someone will want to make that simple app or automated process available worldwide, which makes high-performance low-code a safe bet.
Who offers high-performance low-code platforms?
OutSystems is the only high-performance low-code platform. Our solution provides a level of abstraction not just to the development phase through visual programming but also to the full CI/CD cycle. Thanks to AI and automation, your teams can accelerate development exponentially by automating those tasks that consume valuable development time.
With OutSystems, developers deliver serious applications with serious productivity fast–the kind that eliminates waste and overhead so professional developers can get on with the creative business of designing and deploying uniqueness.
In fact, we're a leading low-code platform in the latest Gartner Magic Quadrant for Low-Code Application Platforms with the highest score for the most relevant use cases for businesses today, namely:
Transactional applications for B2C use cases
Business workflows and systems integration
Back-office apps with pro and citizen developers
You can download the full report in the link above; for the abridged version, check out our blog post on the top low-code platforms.