The low-code market, based on recent data, is predicted to reach the value of $187 billion by 2030 (up from $10.3 billion in 2019).
The reason for this growth lies in the increasing pressure on IT to deliver value to the business—accelerated by the COVID-19 pandemic and lockdowns—and the limitations of traditional development that hinder developer productivity and increase backlogs. With its visual approach to coding, low-code development can empower your existing development teams to build high-quality multiexperience applications faster (if you're looking for the benefits of low-code, we have a whole article on that topic).
Unfortunately, hot tech attracts a wide variety of providers and posers. And although having more low-code platform choices might seem appealing, a closer look reveals that many of these products offer solutions that don't really meet the needs of enterprise businesses or developers, just like Visual Basic didn't a couple of decades ago.
Clarifying the Low-Code Market Size
In the latest Magic Quadrant for Enterprise Low-Code Application Platforms (LCAP), Gartner describes an LCAP as:
"An application platform that supports rapid application development, deployment, execution and management using declarative, high-level programming abstractions such as model-driven and metadata-based programming languages, and one-step deployments."
Based on this definition, the low-code market includes platforms that support the development of enterprise applications that run on multiple platforms and devices, connect to data sources, and address business needs. To be included in Gartner's view of the low-code market, providers must also meet several technical requirements that include:
Demonstrating a go-to-market strategy for its LCAP for cross-industry application development
Providing a minimal set of application platform capabilities
Providing for rapid application development
Providing an enterprise-grade LCAP, aimed at enterprise-class projects.
As the market continues to grow and new providers join the race, every year Gartner adjusts these criteria, with some vendors even moving to different categories such as case management. We fully expect to see additional changes in 2021 as Gartner continues to focus on what bundles of features and functionality customers can expect from a low-code application platform and if that bundle can really address the entire spectrum of use-cases for the enterprise.
An Alternative Perspective on the Low-Code Market
If you're considering a low-code platform to digitize internal business processes, replace legacy apps, or create new customer experiences that include mobile, chat and bots, it may help to understand the low-code landscape based on the heritage of the platforms in it.
This may seem like an odd way to think about development platform vendors, but turns out, it's very important. Let's take a look at three categories of low-code and why they exist.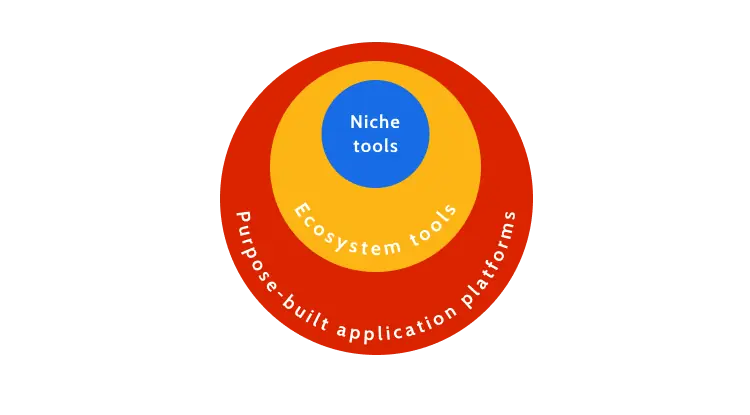 Niche Tools
Niche tools focus on a specific app-dev challenge. For example:
A better way to capture and store data
A simpler way to define business processes
An easier way to create a mobile front-end
These tools are used almost exclusively to satisfy a single business need. They include business process management (BPM), case management, and no-code technology. You can use them to create simple applications really fast as long as scalability isn't a requirement.
Ecosystem Tools
This category's players are typically large software application vendors whose motivation for calling themselves low-code is to provide a path for creating greater value in their (mostly) cloud ecosystems. Because these solutions were developed to solve a specific business need aside from general application development (e.g., database applications, web tools, GUI front-ends to CLI back-end systems), they are at heart, niche platforms.
Purpose-Built Application Platforms
These are platforms architected from the very beginning to address custom application development using a low-code approach. Vendors in this category tend to keep up with market needs and trends and have been incorporating new features for future-proof customer journeys such as progressive web apps and chat bots. These purpose-build application platforms focus on delivering fit-for-purpose apps with a consistent user experience.
These platforms are not strictly pure low-code tools such as the niche or ecosystems ones. They include a low-code framework and tools for multiexperience development, but they also have some capabilities for automation, integration, impact reporting, and one-click deployment.
Why Purpose-Built Is Not Enough
The problem with purpose built application platforms is that, inevitably, a time comes when the solutions built with them need to evolve in a direction the platform does not support. It's like if you needed your content management system to start offering point-of-sale functionality, complete with ordering menus and payments. Maybe you could add some plugins and get something that works, if not elegantly. But, what happens the next time you need something out of the box? Or the time after that?
At this point, organizations using these purpose-built application platforms are forced either to layer on another tool to plug the gap, resort to coding by hand, or search for APIs and other ways to integrate the newly coded systems with existing systems. Very quickly, the benefits of low-code are lost.
We see this frequently. Many of our customers came to OutSystems after having hit this wall with another platform—and it can happen very quickly. The reasons are varied, but we hear things like:
"Yes, our current platform supports online mobile app development… but we need it to create apps that work offline too. It doesn't do that."
And…
"We are not able to integrate with our identity management system."
Question: Why can't more solutions get organizations over this wall effectively?
Answer: Because it's hard to build a development platform that meets the actual needs of customers. Customers don't just need better, more efficient development tools; they need an entire platform that improves the full application lifecycle in the same way that low-code improves the development experience. A modern application platform, not flash-in-the-pan tactics, can make sure that IT teams never hit a wall.
Solving Purpose-Built Problems with a Modern Application Platform
Almost every day we hear about organizations that are victims of digital disruption - cue the retail (Sears, Toys"R"Us), Mobile Device (Blackberry), and taxi industry references. To avoid this, not only do business and IT strategies need to be in lockstep, but IT must be able to deliver solutions at the speed business demands. Imagine if the business minds behind Uber were told there would be a two-year wait for their mobile app.
The speed of development is the biggest opportunity for low-code platforms. Instead, all too often, even with low-code, IT is constrained by:
Big backlogs
Not enough budget or skilled resources
Development complexity
Systems that are often outdated by the time they're released.
Addressing these problems requires a modern application platform that offers low-code for the visual development of all layers of an application, including user interfaces for any device, integration, data models, business logic, and workflow, and enables the extension of an application with custom code. That sounds like a purpose-built application platform, right? The difference is that with a modern application platform, it's possible to:
Package mobile apps for the app stores in one click.
Manage the full application lifecycle with automated dependency impact analysis, application portfolio governance and refactoring, and debugging to ensure deployments don't break.
Handle complex mobile requirements like ultra-responsive user experience, offline data, on-device business logic, and sensor integration.
Scale to support high volumes of users and transactions.
Deliver superior user experience through continuous delivery and deployment.
Meet demanding security requirements.
Adopt a multi-persona app dev strategy, taking full advantage of governed business and IT collaboration.
Because a modern application platform provides everything in that list (and more), it has a much greater impact on the business than a purpose-built application platform because:
IT departments are able to improve productivity and reduce their backlogs dramatically.
Maintenance costs are slashed, freeing up more budget for innovation.
IT resources are used more effectively.
IT truly becomes agile, able to respond to the business and deliver what the customer actually needs.
Business cooperates closer with IT taking active participation in the development of the solutions.
Take the credit rating company FICO, for example. They had a two-year development project that failed. In just six months with half the team, they rewrote and delivered a brand new origination system and got to market three times faster using the OutSystems modern application platform.
The OutSystems Philosophy
There is a market for niche platforms and not every organization needs the kitchen sink at all stages of their existence. But, for organizations with the goal of achieving long-term relevance and growth, we strongly urge careful consideration of the low-code development platform market, its players, and their heritage of delivering "x" before locking into a relationship that may be difficult to walk away from later. The "one simple trick" needed for success is to look beyond the quick fix to a platform that can deliver true digital transformation.
A modern application development platform that combines the speed and efficiency of low-code development with the expressiveness and capability of traditional development represent a chance for organizations to completely change how they deliver applications. It can also alter the dynamic between business and IT so that they work together instead of at cross-purposes, which can happen especially with niche and ecosystem low-code tools. 
To learn more about the variety of low-code platforms, I invite you to download a complementary copy of Gartner Magic Quadrant for Enterprise Low-Code Application Platforms, 2020. And to learn more about why you should consider a modern application development platform, read the article Low-Code Might Get You to Version 1, But What Happens After That?