CMS Builds Knowledge Management App for 1500 Lawyers
18
member firms and 79 offices
8,000+
staff to use new mobile app
Legacy systems at top ten global law firm CMS made it difficult for the entire organization to act as one. When the firm's corporate/M&A practice challenged IT to deliver a new global collaboration tool, they chose OutSystems to deliver the "My CMS" mobile app in record time. Employees now find it easier to find the expertise and information needed for their work.
OutSystems is now being used in multiple projects to accelerate the firm's digital transformation, including innovative customer-facing mobile apps that help CMS deliver more value to customers.
Legacy Modernization

Operational efficiency

Mobile Applications

Workplace Innovation

Challenge
Legacy Systems Made it Hard for CMS to Act as One
Ranked as a Top 10 Global Law Firm, CMS operates in 70 cities in 43 countries and with 75 offices worldwide. Having grown through a series of mergers—including the coming together of CMS, Nabarro, and Olswang in 2017—CMS inevitably had a very diverse IT landscape. A mixture of legacy systems made it difficult for CMS to act as one firm. To support continued rapid growth, while at the same time providing more value to clients, the firm needed to pool resources, and accelerate innovation.
CMS Legal Services is the firm's central services center, based in Frankfurt. Its mission includes providing technology services and solutions to enable organizational change and business innovation. Integration and standardization of the firm's systems and processes are central to that mission.
In the past, CMS IT had typically relied on customized off-the-shelf applications. Development, or customization, followed a waterfall implementation approach. Even though substantial progress had been made in IT's ability to serve the global business, there was much more that could be done to improve agility.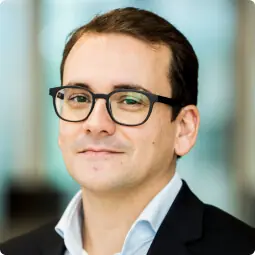 In 2018, the corporate/M&A practice challenged Hélder's team to deliver a mobile app that would help staff find relevant expertise and improve collaboration across the global organization. Until then, the practice had been using a custom-built solution, but that lacked an accompanying mobile app and was comparatively hard to use or improve.
Why CMS chose OutSystems:
Architecture for improved reuse

Deliver web and mobile applications

Powerful integration
Solution
OutSystems Provides a Platform for Innovation
Hélder knew OutSystems from previous projects as IT Director for CMS in Portugal, and based on that experience, he knew that a low-code approach could improve agility, and help overcome the problems of slow delivery, limited reuse, and hard-to-change deployments.
Following a competitive tender, CMS selected OutSystems to build the new mobile app. Flexibility was the overriding selection criterion", as Hélder explains.
In January 2019, CMS commenced an "envision" exercise with OutSystems and set out the following objectives for the new application:
Enable users to find partners and lawyers using a wide range of criteria, including location, expertise, sector, and languages.
Share information on publications, events, rankings, newsletters, panel agreements, and transactions.
Ensure data availability, privacy, and security.
Provide access anytime, anywhere—by web or mobile application.
Deliver a great user experience, irrespective of device/screen format.
What also became clear was that the app would need a backend integration layer to connect to multiple information sources across the organization, including intranet, website, active directory, and others.
Partner
JADE ELI TECHNOLOGIES LIMITED
JET Group are specialists in Regenerative Innovation, combining proprietary regenerative tools with low-code technology solutions, assisting its clients to become market shapers. Working with banks,...
Learn more about JADE ELI TECHNOLOGIES LIMITED
Results
Mobile-First Solution Connects Colleagues to the Expertise and Knowledge their Work Demands
In five months, working with two developers from OutSystems partner Jade Eli, CMS developed and launched the "My CMS" mobile and web app for the 1,500 lawyers in their worldwide corporate/M&A practice. And, as Hélder explains, the app has been enthusiastically adopted.
"The feedback is positive—users appreciate the modern look and feel and how easy it is to find the information or expertise they are looking for. Also, content contributors, such as marketing, find it much easier to enter and manage the content they are responsible for, so information is more up-to-date."
CMS expects to roll out the app to other practices in the firm, and ultimately over 8,000 CMS staff around the world will use the app. CMS is also transferring several other services to OutSystems, including SharePoint, a wiki platform, and several manual processes, and expects to reduce software licensing costs as a result.
Following the success with My CMS, the team has extended the use of OutSystems for customer-facing development projects. For example, the "Data Breach Assistant" provides step-by-step guidance to clients on what to do in the event of a cyber breach. Correct behaviour by staff in these situations is essential to comply with the law. This app is designed to help clients avoid non-compliant behaviour and can, therefore, reduce the risk of severe fines.
Outlook
Following the success of the My CMS project, there's a lot of enthusiasm for similar web and mobile development projects across the firm.
Moreover, having developed the backend integration layer using OutSystems, CMS expects to extend the approach further, as Hélder explains.
The longer-term vision is to create an enterprise reference architecture to support the CMS digital transformation journey, and OutSystems is expected to play a central role in ensuring that this architecture provides CMS the agility they require to keep innovating at speed.