Life Healthcare's PWAs Help Stop the Spread of COVID-19
66
hospitals and 286 clinics
70,000+
employees onboarded
PWA
ideal for "high change" environment
At the start of the COVID crisis, Life Healthcare, a leading South African private healthcare organization, urgently needed to deliver a mobile app to help protect staff across 66 facilities, 286 clinics, and customer sites.
The healthcare organization used OutSystems to deliver a progressive web application—avoiding the complexity and delay of app store deployment.
The PWA approach proved ideal for a fast-changing environment. The app became part of the LifeRISK Solution, now used by the company's occupational health clients to keep over 70,000 employees safe.
Case Management

Customer Experience

Field Service Optimization

Lotus Notes Rebuild

Mobile Applications

Operational Efficiency

Web Apps & Portals
Challenge
Constantly Changing Guidance and Users at Risk
Life Healthcare is one of South Africa's largest healthcare providers. Around 40,000 nurses, doctors, paramedics, and other staff care for 1,200,000 patients annually in 66 facilities and 286 outpatient locations. Its Employee Health Solutions (EHS) business provides occupational health, employee wellness programs, and emergency medical services to 392 companies.
The company adopted OutSystems in 2015 and has since deployed several web and mobile applications that streamline processes and improve patient, nurse, and doctor experiences.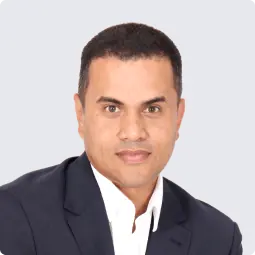 In early 2020, the COVID pandemic provided a significant challenge to keep healthcare staff and hospitals safe. "Our ultimate concern was to protect uninfected patients from COVID-19 exposure in our hospitals and clinics," explains Alistair Petersen, Head of IT Business Solutions at Life Healthcare. "To do this, we needed a way to monitor staff wellness continually, so we could act quickly if any person or ward might be at risk of infection."
The company wanted a daily survey for all healthcare workers to report their wellness or potential COVID-19 symptoms, exposure, or positive test status. A mobile app was the obvious choice—so staff could complete the survey each day before starting their shift.
The company also wanted to provide users with the right advice and tools to help them make decisions that would keep themselves and others safe. In this respect, continually evolving information presented a further challenge: how to ensure that the survey remained in sync with the prevailing knowledge about the pandemic and offered the appropriate recommendations.
Why Life Healthcare chose OutSystems:
Speed-up development and improve agility

Deliver public-facing web and mobile apps

Improve UX
Solution
From COVID-19 Screening Tool to Customer-facing LifeRISK Suite
Until recently, Life Healthcare's requirements would have forced it to build a native mobile app, but there were several reasons why that was not a good fit for this urgent requirement.
"Getting new apps approved for app store deployment often takes too long," explains Alistair. "We couldn't afford any delay. Worse still, Apple and Google placed blanket bans on any app to do with COVID-19, so a native app was not an option."
In early 2020 OutSystems added progressive web apps (PWAs) as a new way to distribute apps for use on mobile phones, tablets, and computers. PWAs provide native-like features, such as a full-screen, offline working, ability to use device capabilities like Touch-ID, camera, and geolocation.
Most importantly, PWAs are accessible via a URL, bypassing the need for app store deployment, making it much faster to get to market.
Working with its OutSystems partner iSixty, Life Healthcare upgraded to the latest platform release of OutSystems, which allowed the team to start using the PWA deployment option. Then, in just two weeks, a combined development team of one Life Healthcare Product Owner (Dr. Prinesh Reddy), one iSixty developer, and two UX/UI experts from OutSystems partner JustSolve created the daily COVID-19 screening app.
Another pod of iSixty developers created a further five apps for dashboarding, call center operations, case management, access control, telemedicine, and pathology test orders—all delivered in just three weeks.
Since deploying the solution, Life Healthcare's central monitoring team has quickly responded to risk signals and successfully kept staff and patients safe.
"We quickly realized that our occupational health clients had exactly the same requirement as our acute Life Healthcare facilities," explains Alistair. "So, the next step was to turn our internal solution into a product we could offer to employers through our Life EHS business."
After a further two weeks of development, the result was the "LifeRISK solution," which includes a PWA for employees and a reactive web app for administrators. Capabilities include:
LifeRISK app (PWA) for employee daily check-ins.
In-app advice on next steps in the event of symptoms—such as isolation, and where to get a test.
The ability for site access control staff to perform employee check-in—needed for employees who arrive at work without a smartphone.
A case management tool that alerts line managers of relevant risks.
Management dashboard and reports.
An audit process for COVID response teams.
A central call center app that helps Life Healthcare's EHS team manage cases and support clients.
Results
All the Benefits of Native Apps, Without the Complexity
The LifeRISK app has had rapid take-up since its launch in April 2020. In the first two weeks alone, Life Healthcare onboarded 40,000 employees, giving corporate clients access to a state-of-the-art solution for employee screening supported by proactive alerts, up-to-date health guidance, and the support of a health advisory team.
OutSystems proved invaluable in this high-change environment, enabling rapid and continuous deployments of the PWA.
LifeRisk has proved invaluable to support businesses in reducing COVID-19 risk in their workplace. Results include:
Over 70,000 employees onboarded.
More than 2 million check-ins and rapid surveys performed.
Over 11,043 alerts processed to assess potential COVID-19 risk at customers' workplaces.
Of these, more than 6,000 cases of COVID-19 risk were managed, resulting in a reduced risk of workplace contamination.
Significant cost savings for client companies, by reducing productivity losses and regulatory burden had they needed to shut down.
Meanwhile, the original Life Healthcare employee screening app has continued to play a crucial role in keeping staff, facilities, and patients safe, with around 16,000 staff health assessments completed every day.
Life Healthcare has enhanced the app with an integrated telemedicine facility and in-app test result notification. "Users can access a doctor consultation via their LifeRISK mobile app or web portal," says Alistair. "And if needed, they can get a direct referral for a local COVID test facility."
The app can automatically notify test results to both the individual and their employer—a safety provision allowed by South Africa's temporary COVID emergency privacy regulations. This ensures there is no delay if additional safety measures are needed in the workplace.
Life Healthcare has also implemented a vaccine campaign solution, which will also integrate into the LifeRISK application. This is used by corporate customers who are providing COVID-19 vaccines to their staff outside of the government rollout. "When we architected this app, we learned from the connectivity difficulties experienced by the government's system, so we built the vaccine solution as a PWA as well," says Alistair.
Commenting on the success of the LifeRISK Solution, Alistair says, "This is only made possible by the combined efforts of our Life EHS product owner, Dr. Prinesh Reddy, the OutSystems platform, and our excellent partners."