Progressive Web Apps (PWAs) are offline-first mobile apps that promise a seamless experience when compared to their web counterparts. You can look at them as hybrid versions of websites and mobile apps: they're essentially web pages that behave as mobile apps, thus removing the hassle of submitting your apps to the app stores.
PWAs provide a set of unique characteristics that make them very appealing to big and small business such as:
Responsiveness: working on devices of any form factor;
Connectivity independent: working on-or off-line;
Discoverability: search engines can find them;
Native look and feel: offers a native-like experience without duplicating the development effort to run on different operating systems and platforms.
PWAs Are All Around You
PWAs are not a niche activity. In fact, PWAs are used by some of the world's biggest brands – including Facebook, Forbes, Gmail, Pinterest, Google Maps, Trivago and Tinder – so it's very likely that you're already using them, whether you are aware of it or not. These applications are engaging their users like never before – and having a massive impact on their business performance.
That said, here are some of our our favorite examples of progressive web apps:
Pinterest
Only one percent of Pinterest's visitors converted to app installs for iOS and Android and their PWA had a massive impact on performance metrics. With visitors spending 40% more time on its PWA compared to the mobile website, the company increased user engagement by 60% and ad revenues by 44%.
Starbucks
The Starbucks PWA exploits the off-line capabilities of PWA to allow their customers to browse menu and nutrition information and customize their orders without an Internet connection. Remarkably, the PWA required less than one per cent of the storage requirements of its mobile app. Since launch, Starbucks has seen daily active users double.
Twitter
The vast majority (80%) of Twitter's users are mobile, so they needed a lightweight app that could offer faster, more data efficient access to their app. The introduction of the PWA increased page views per session by 65%, Tweets sent by 75% - and saw bounce rates reduce by 20%.
PWAs the OutSystems Way
At OutSystems, we're on a mission to remove the complexity of software development while raising its quality. With that in mind, last year we extended our platform capabilities to let our customers distribute their apps as PWAs on different channels with a single development effort.
A little over a year after making this feature available, several of our customers are already using it to take advantage of the PWA benefits. In fact, in an atypical year like 2020, many were the customers that launched PWAs as part of their business continuity efforts. Here are a few examples: 
My Wellbeing
My Wellbeing is an application used by employers to make sure their people are safe. Understanding the wellbeing of their employees helps organizations make business continuity-based decisions during emergency situations. This mobile application can be generated as a PWA or an iOS or Android app and can therefore be deployed in whatever manner makes most sense for individual companies.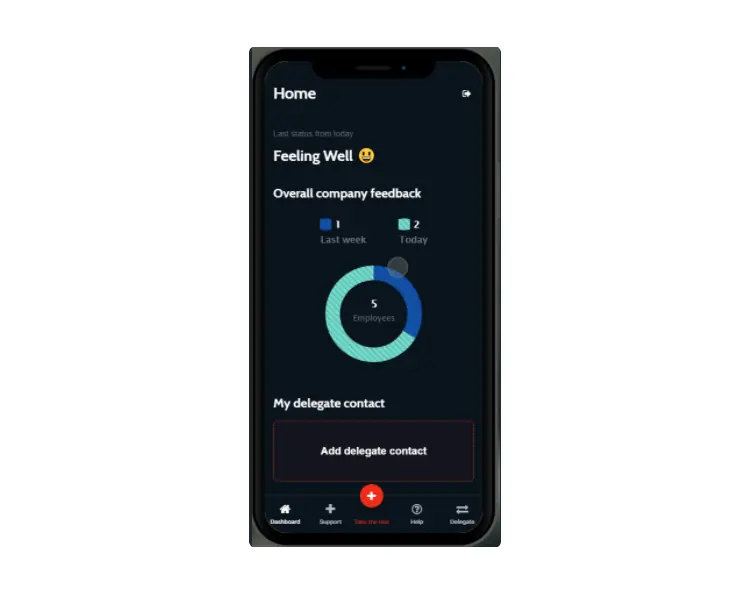 COVID Nirikshak
COVID Nirikshak is supported by OutSystems as one of 20 ideas that use our modern development platform to address challenges related to the global pandemic. The goal of the app, provided as a PWA, is to provide an easy to use and efficient way for the Family Planning Association of India's medical staff to easily and safely screen patients for COVID-19 before entering a clinic and being seen by a healthcare provider.
Life Healthcare
The PWA built for at Life Healthcare helps to ensure that patients and staff are protected from the COVID-19 virus. It allows people to check their symptoms and continuously monitor any changes, gives them access to information that fits their risk profile and offers guidance on getting appropriate treatment. The video features Alistair Petersen, Life Healthcare's head of IT Business Solutions, who is a passionate believer in the power of our platform to accelerate the pace of digital transformation.

Constellation Mutual
The medical professional liability insurance company Constellation Mutual used OutSystems to build a PWA to streamline the peer support program's communications, time-tracking, and compensation processes. Since the new portal launched, clinician peer support consultants have praised its ease of use and time-saving. The new system has also eliminated repetitive tasks such as manually composing emails and text messages.
Building PWAs Using OutSystems
There are a number of advantages to using OutSystems high-performance low-code platform to build PWAs: once the mobile app has been created (using our rapid, intuitive visual development tools), it can be distributed as a PWA with a single toggle and it 100% compliant with Lighthouse, Google's open-source, automated tool for measuring the quality of web pages.
To find out more about the benefits and how to deploy apps as PWAs, check out this webinar with AWS. If you're brand new to our platform, you can try OutSystems for free – we hope you'll find that your path to a PWA is much more straightforward than you realize.