Success Plans
OutSystems Success Plans are an yearly offer suited for organizations adopting OutSystems. Each Success Plan key objective is to maximize and accelerate the value you get from the OutSystems platform by providing you with the right Expertise, Support Level and Guidance throughout your adoption journey.
Depending on the Success Plan of your choice, you will get a combination of the following:
Professional Services Credits
Yearly access to a Technical Success Manager
Elevated Technical Support
Certification Exams
Professional Services Credits
Leverage OutSystems Professional Services team with our +19 years experience best practices, and our proven Great Apps: Delivered ™ methodology developed from partnering on thousands of projects with our successful customers, through:
Education Services
Expert Coaching
Expert Services
Yearly access to a Technical Success Manager
The Technical Success Manager (TSM) works closely with your technical team as a trusted advisor in the adoption and growth of OutSystems. The TSM is a strategic asset helping to reduce the time it takes to deliver your first OutSystems applications and begin seeing measurable business benefits from the platform. All TSM activities are planned and prioritized together with your technical leadership based on your specific context and goals.
As your enablement journey progresses, the TSM shifts to more of a mentoring role. The TSM helps your company's IT grow into OutSystems experts who can then coach and train others. The TSM will also take an active role in reducing the risk of your production systems in key events.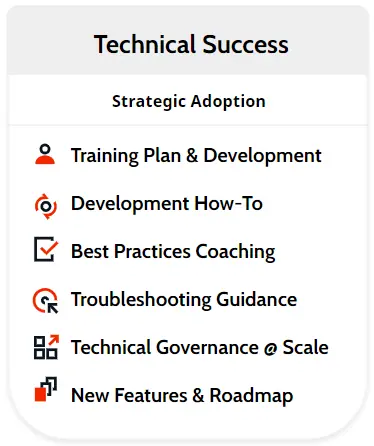 Areas of focus of the TSM in the top OutSystems Success Plan
Training Plan & Development
The TSM works with your team to gather the necessary context about your project and team skills. This is used to suggest an effective onboarding plan. The TSM also helps remove roadblocks during the onboarding stage so

your team is productive as quickly as possible

.
Development How-To and Troubleshooting Guidance
OutSystems is a powerful and vast development technology. When starting with OutSystems or venturing into new areas such as Business Processes, Mobile Apps, PWAS, or Workflows, for example. The TSM guides your team as it ramps up and

reduces the risk of project delays

due to lack of familiarity with the technology.
Architecture and Code Best Practices
The TSM provides coaching on fundamental

code and architectural best practices

. These are critical to avoid future technical debt. As your use of OutSystems matures, the TSM works closely with your technical leads and architects to set up processes and tools that

adhere to best practices.

OutSystems Configuration Guidance
OutSystems has multiple components for DevOps (Lifetime), Monitoring and Configuration (Service Center) Quality Control (Architecture Dashboard) and others. Your TSM will

guide you on the available options for the OutSystems-specific tools

and act as a coach in the configuration of the OutSystems platform and tools as per your requirements.
Advisory for Technical Governance @ Scale
The TSM provides awareness and coaching on processes that are key to the healthy growth of your OutSystems portfolio, particularly when multiple teams are working in parallel for the delivery of one or multiple complex applications. In such complex environments your TSM will guide your team through creating an

architecture that is ready to scale

and advise on critical processes like

Testing, Application Lifecycle, and Monitoring

.
Proactive Notification of Product Updates
The OutSystems platform is constantly evolving through new improvements and features. Your TSM has access to the latest and greatest in the OutSystems technology and will proactively engage with your technical teams to make sure they are

up-to-date on new capabilities and how best to utilize them

.
Elevated Technical Support
OutSystem success plans can also unlock a superior Technical Support that is appropriate for customers running Mission Critical systems with the OutSystems Platform.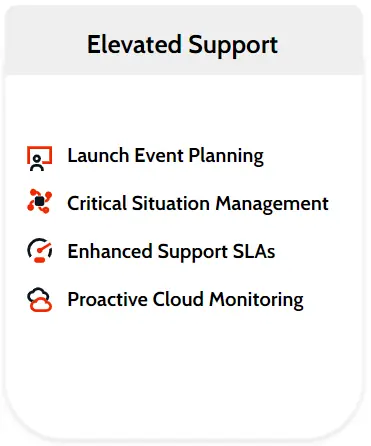 Elevated Support experience provided by the top OutSystems Success Plan
Superior Support SLAs*
With Technical Success Management, you get next-level OutSystems support SLAs that offer

accelerated response times

. Please check your OutSystems contract for detailed information on the OutSystems Support SLAs you have access to.
Critical Situation Handling
The TSM is your platform expert and advocate inside OutSystems. When a critical situation occurs, your TSM has the necessary context and works with the OutSystems Technical Support team to

expedite ticket resolution

.
Launch & Event Planning
There are pivotal moments such as an upgrade to a critical service, a marketing campaign that will bring millions of users, etc. In these types of events your TSM will work with your technical team to

mitigate the risk of critical events

. The TSM will also provide visibility and context to the OutSystems Technical Support team.
Proactive Monitoring
Customers using the OutSystems Cloud have an elevated level of monitoring at the App Server and DB Server. Proactive Monitoring builds on top of the standard monitoring offered by OutSystems by proactively analyzing the behavior of your infrastructure to anticipate possible service disruption.  Examples could be the detection of a higher frequency of particular HTTP codes or consistent performance degradation of specific services.
Certification Exams
The OutSystems Certification program was built to foster an ecosystem of skilled professionals to deliver high-end quality solutions. We certify professionals on knowledge and real-world project experience.

More information about our certification exams can be found at https://www.outsystems.com/training/certifications/ .

To learn more about the OutSystems Success Plan offerings contact your OutSystems representative or send us a message.
* OutSystems Support SLAs are defined in your Master Subscription Agreement (MSA). Learn about OutSystems Technical Support SLAs here.