OutSystems has announced the keynote speakers for NextStep Americas, the third event in the company's annual global conference series showcasing the best in digital transformation and low-code technology. The NextStep Americas conference is being held Nov. 1-2 at the Hyatt Regency McCormick Place in Chicago. OutSystems previously hosted NextStep events in Lisbon, Portugal in September and in Utrecht, The Netherlands, in October.
The speaker list includes former U.S. NASA astronaut Scott Parazynski; Jason Wong, research director at Gartner; and Paulo Rosado, CEO and founder of OutSystems.
Parazynski, a member of the US Astronaut Hall of Fame, has spent more than eight weeks in space. He also has scaled Mt. Everest and co-founded tech startup Blue Marble Exploration. He serves as managing director of Apogee Interests, which focuses on commercializing his extensive innovation portfolio in medical devices, consumer products, and gear developed for extreme environments. Parazynski will share how he has conquered challenges both in space and in business.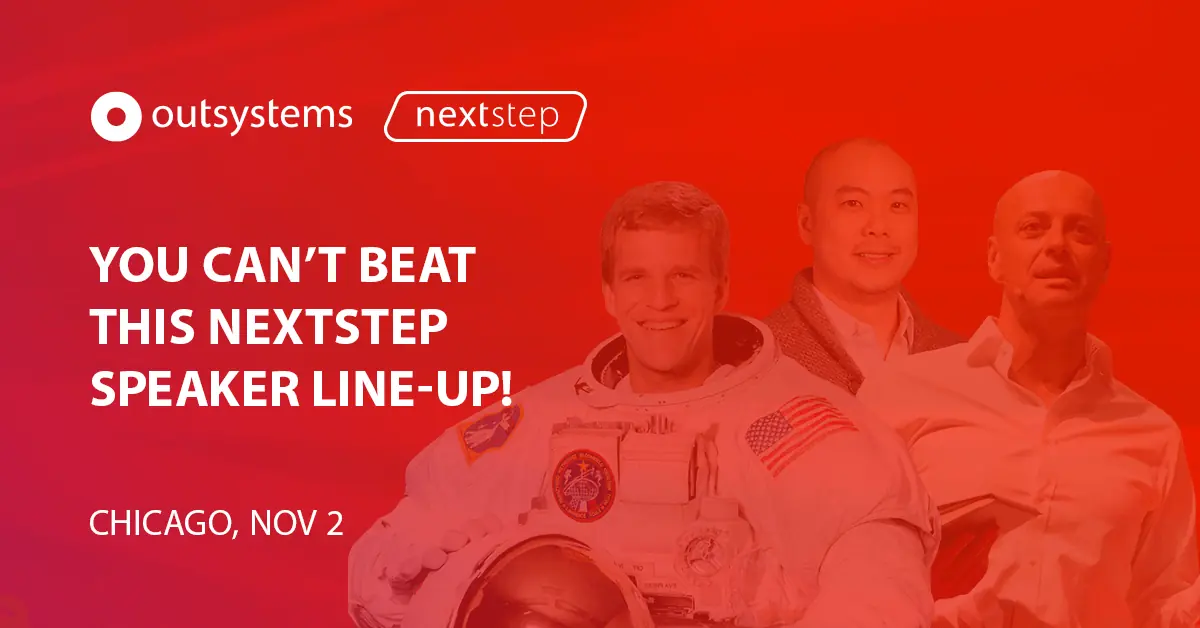 Wong is a Gartner Research Director on the App Design and Development team, focused on enterprise strategies for mobile web app design and development, analytics and lifecycle management. He has written recent reports on "citizen development" and mobile app development platforms. He will discuss the evolution of the low-code market and ways companies can maximize their use of low-code app development tools.
OutSystems leader Rosado, a pioneer in the world of low-code development, will present a framework for the digital transformation journey, rooted in real-world customer experiences.
"Like the NextStep events in Lisbon and Utrecht, our Chicago event has an impressive line-up of keynote speakers who will inspire participants seeking to accelerate their digital transformation," Rosado said. "We've been thrilled by the turnout and energy we've seen so far and we're looking forward to Chicago. IT leaders will have access to experts, educational sessions, networking and customers they won't find anywhere else."
In addition, numerous digital innovation leaders, CIOs and IT leaders will share stories of their digital transformation using low-code technology from OutSystems. Speakers from Microsoft, FICO, Kent State University, Estafeta, Rollins, Tricentis, and others will be featured.
Sponsors of the NextStep event in Chicago include Deloitte, Truewind, Direct Sourcing Solutions, Cognizant, Synnex, Noesis, Persistent, Highland Solutions and Do IT Lean.
Sign Up
NextStep 2017 Chicago is being held on Nov. 1-2 at the Hyatt Regency McCormick Place in Chicago. For more information, and to register for the Chicago NextStep event, visit: https://www.outsystems.com/nextstep-2018/.
About OutSystems
Thousands of customers worldwide trust OutSystems, the number one low-code platform for rapid application development. Engineers with an obsessive attention to detail crafted every aspect of the OutSystems platform to help organizations build enterprise-grade apps and transform their business faster. OutSystems is the only solution that combines the power of low-code development with advanced mobile capabilities, enabling visual development of entire application portfolios that easily integrate with existing systems. Visit us at www.outsystems.com, or follow us on Twitter @OutSystems or LinkedIn.
Content you can't miss
Consider Intelligent Automation from OutSystems and AWS
Get more from your business process automation efforts.
Forum & Community Discussions | OutSystems
Find solutions, share knowledge, and get answers from OutSystems MVPs, experts, and the developer community. Ask your question & get a response quickly!
BaseLinked | OutSystems
A new digital HR experience for a new way of working. With over 25 years of HR technology and systems integration experience, we've been where you are now. One of the biggest failure points we've seen in digital HR transformations is the disconnect between HR and IT. In a market saturated with HR technology solutions, our approach is simple. We combine cutting-edge technologies with extensive HR industry experience to provide agile HR solutions that support a connected and empowered workforce now and into the future.
Journalists and analysts can contact us directly at pr@outsystems.com