OutSystems, the enterprise Rapid Application Delivery (RAD) provider, today announced new findings from a joint survey with TechValidate that highlight the business and technical priorities and challenges that IT organizations face when developing applications in today's increasingly complex development landscape. More than 200 IT decision makers at enterprises worldwide were asked about the kinds of applications they plan to build in 2015.
Mobility emerged as a top focus in 2015.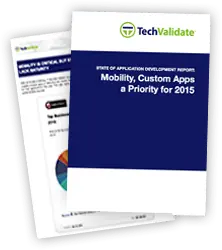 43% rated mobility (apps or sites that are mobile-friendly) as their top business functionality or process that is critical for applications.
Over half of surveyed IT organizations plan to build between 51% - 100% of their apps with a mobile component.
The dominant mobile architectures for 2015 will be Mobile Web (60%) and Hybrid (65%), with only 26% of enterprises planning to use Native mobile architectures.
Off-the-shelf apps are not keeping up with enterprise needs.
Despite a plethora of packaged and SaaS-based applications available, many enterprises are finding it faster to build their own apps rather than customizing packaged ones. The top five enterprise applications that organizations plan to build in 2015 include:
Process automation (forms, routing)
Reporting and analytics
Executive dashboards and scorecards
CRM
Collaboration
Complex backend integration with numerous systems is becoming the norm.
When building applications, organizations are finding themselves doing significant integration with existing systems:
79% of organizations needed to integrate with at least 1-5 cloud-based applications
66% of organizations needed to integrate with at least 1-5 on-premises applications
61% of organizations needed to integrate with at least 1-5 custom developed applications
For many organizations, this is cumulative: it is not uncommon to see integration with up to 15 existing systems for any given application.
Paulo Rosado, CEO of OutSystems said,

"The survey results echo the challenges we hear from customers: they are increasingly focused on delivering mobile applications, they aren't getting what they need from off-the-shelf from packaged applications, and they desperately need the ability to integrate quickly and seamlessly with a wide variety of technologies. This confluence of challenges within enterprise application development is leading organizations to seek alternatives to dramatically simplify the delivery of applications, regardless of the underlying technology requirements."
OutSystems today also released new functionality for its Rapid Application Delivery platform, which helps enterprises manage this complexity, regardless of the application being built, the architecture it leverages, where it is hosted, or mobile requirements. New functionality released with OutSystems Platform 9 Amsterdam includes:
Enterprise scale, enhanced portfolio governance from development through deployment.
Simpler, expanded integration, via back-end, standards-based (REST and SOAP) consumption and exposure.
Omnichannel experience, leveraging a brand new responsive UI framework that enables the creation of engaging user experiences rapidly, while abstracting away complexity.
Improved change management for mobile, enhancing the ability to capture context and user feedback across all devices.
Continued dedication to open standards, with added support for SQL Server 2014, Oracle 12c, and Microsoft Azure.
More pre-built template apps, to help OutSystems customers further increase productivity. In addition, existing template apps are being refactored to improve their ability to expand and integrate.
For the full survey results, visit www.outsystems.com/1/state-app-development-trends/
Content you can't miss
Consider Intelligent Automation from OutSystems and AWS
Get more from your business process automation efforts.
Forum & Community Discussions | OutSystems
Find solutions, share knowledge, and get answers from OutSystems MVPs, experts, and the developer community. Ask your question & get a response quickly!
BaseLinked | OutSystems
A new digital HR experience for a new way of working. With over 25 years of HR technology and systems integration experience, we've been where you are now. One of the biggest failure points we've seen in digital HR transformations is the disconnect between HR and IT. In a market saturated with HR technology solutions, our approach is simple. We combine cutting-edge technologies with extensive HR industry experience to provide agile HR solutions that support a connected and empowered workforce now and into the future.
Journalists and analysts can contact us directly at pr@outsystems.com