Neo's Odyssey
The OutSystems Coding Challenge
This December,
take on a coding adventure with Neo
Whether you're a seasoned developer or just starting with OutSystems, this will be the perfect month for you! Neo's Odyssey is a guided coding journey where you will have the opportunity to practice or upgrade your OutSystems developer skills, by following through community challenges and product integrations until you reach your final destination - building a fully functional OutSystems app.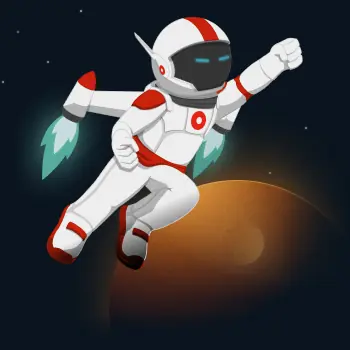 Neo's Odyssey will begin December 1, 2021
Neo watched every session of the OutSystems Developer Conference (and so can you) and now wants to put all that knowledge into practice.
This month-long coding journey will consist of daily quests that Neo faces while exploring space. The quests will be shared in the OutSystems Forums.
When you reach the end of this Odyssey, you will have a fully functional application that you built alongside the broader community.
Participation
Abide by the Community's Code of Conduct
Use your free environment, you can get one here
You can start whenever you want, the goal is to do a bit of code every day but what works for you, works for Neo
Challenges
All quests will be shared on a daily basis in the Community Forums.
Each quest will include a few tips to help you be successful but it's completely up to you how you want to implement!
Sample
Neo had a nightmare today
A group of otherworldly beings somehow manage to get hold of your plans and got a way of accessing our friends' login credentials.
Neo wakes up. Heavy breathing. Still dizzy from the nightmare.
How can we avoid this nightmare from happening? Maybe implement multi-factor authentication?
What's in it for me?
Explore the OutSystems Platform as a whole
Have a try at challenges that wouldn't be usual at your daily work (rotating cubes anyone?)
Have an app that you can actually use with your friends
Have the perfect reason to get some time to practice and upgrade your OutSystems Developer magic
Building applications fast, right, and for the future