It's a recognizable story for many organizations: manual processes and methods need to be optimized, improved, and maybe even removed. But we are all so used to our regular ways of working that we don't take the time to consider change. To make meaningful improvements, companies really need to look to the core.
Boels Rental, one of the most renowned rental companies in Europe for machines, tools and event equipment, saw the need to do just that: make innovation a priority and put IT at the center of the business. And that's how Boels and its IT partner Phact created the Boels Challenge Week. A week in which all eleven departments at Boels challenged the IT department to develop innovative apps with the OutSystems low-code platform.
Facing the Relentless App Demand
In our State of Application Development 2019 report, it became clear that many IT pros cope with a backlog and relentless demand for applications. No wonder they feel the need to accelerate software development.
For this Challenge Week, Phact developed a portal in OutSystems so that all departments could submit their ideas for applications. The demand was huge: over 114 application ideas were submitted from within the business.
Once all those ideas were submitted the first goal had been achieved: bring the business closer to IT and position IT as the innovation partner of the business. The next challenge was to decide which ideas would see the light of day.
One Week, Eleven Apps: Ready, Set, Develop
To anyone familiar with low-code, it's not surprising how fast you can move from ideation to delivery. In this case, Phact and Boels decided only to develop ideas that could go from idea to minimum viable product (MVP) in one week.
Eventually, eleven ideas, one for each department, were chosen to be developed. Together with Phact, the IT pros of Boels started developing the business applications using OutSystems. A week later, eleven new applications had been developed!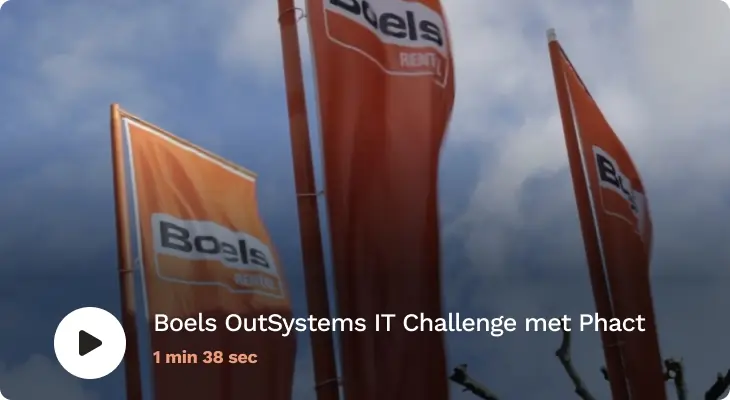 Results: Digital Transformation and Streamlined Processes
Boels Challenge Week was a success. After a week, many processes were digitalized and streamlined. The apps have even resulted in saving several FTE (full-time equivalent) for Boels. But more important than that is that all departments at Boels had a taste of the endless possibilities that low-code application development offers and how fast a company is able to innovate.
From the eleven apps, one was a particular hit. A mobile app for the construction site design department that allows employees to digitalize their work orders simply by using their smartphones. Before, they had to hand in their orders on paper in one of the local offices. This app greatly simplifies the process for the users as it ensures the database is always up to date and shows real-time information of the order status.
The Power of OutSystems
For many IT pros, it's a fact: 80 percent of their time is spent on keeping the lights on, so innovation always comes second. Boels managed to break this rule and make innovation the core of their business while showing the true value of IT to the entire company.
From Challenges to Opportunities
Many organizations fear change for many reasons. They lack time, expertise, suffer from siloed departments, or have to cope with legacy IT. These challenges might appear hopeless, causing organizations to lose motivation.
The Boels Challenge Week proved to be the ultimate business case for digital transformation, showing everyone in the organization the power of low-code platforms and the speed at which digital transformation can be achieved.
So are you interested in a week of innovation and increasing efficiency in which the business and IT become one? Organize a Challenge Week with OutSystems low-code platform!