Over 3,500 IT professionals from 116 countries shared their insights in our 2018 State of Application Development survey. The results are published in the State of Application Development Report 2018, which is one of the most comprehensive research reports of its kind. (You can get a complete description of the report here.)
According to those professionals, lack of flexibility is the main fear that keeps people from investigating low-code. They don't believe they'll be able to build what they need.
Enter, stage left, the OutSystems use-case pages. Enter, stage right, hundreds of happy customers. With these formidable characters on the stage, can we assuage such fears?
Ignorance and Fear Delay Low-Code Adoption
Our research found that 34% of organizations are already using low-code, and another 9% are planning to start soon. Among many other findings, the survey revealed what kinds of applications organizations are building with low-code. We also learned that the two main reasons for not using low-code are:
Lack of knowledge about low-code (32%)
Fear that they would not be able to build what they need with low-code (19%)
If only we could get early adopters of technology and more conservative buyers in the same room! Surely, magic could happen?
Of course, that's precisely what does happen at our annual NextStep conferences, Click the link for details of past and future events.
But, there's no need to wait for our annual events before confronting these fears. We can get users and non-users of low-code on the same page, if not physically in the same room, now—in this article.
Types of Apps to Build in 2018
We asked all respondents to describe the two most important types of applications that they would develop in 2018. In first place are apps that are used directly by customers or business partners (66%). Apps that support internal processes, operations, and analytics are second (52%).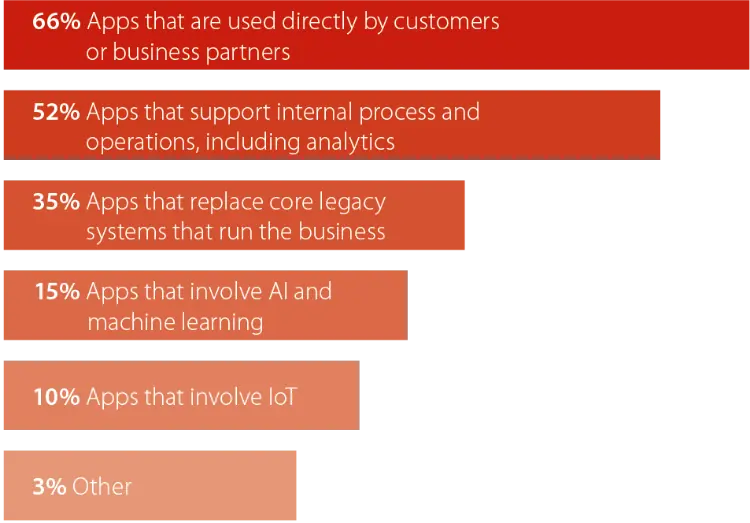 Current Projects Using Low-Code
We asked the 34% of respondents who were already using low-code, what kinds of projects they were delivering with low-code. As shown below, the top two answers were:
Customer and partner-facing portals or web apps (50%)
Employee-facing portals or web apps (49%)
Three types of applications jostled for third place:
Mobile apps used by customers and partners (32%)
Mobile apps used by employees (28%)
Extending or replacing existing legacy systems (31%)
Another 16% of respondents said they were in the process of just starting.
Low-Code Where It Matters
These charts show that low-code is being used to build the kinds of applications that are of most importance to organizations. Multiple responses were allowed, and no doubt there's a fair degree of overlap. For example, a customer or partner-facing portal very often extends a legacy system.
When we add customer and partner-facing portals and web apps (50%) to mobile apps that serve the same users (32%), it clearly emphasizes that low-code is pulling its weight in when it comes to serving customers and business partners.
82% of low-code users are serving customers or partners with either web or mobile applications.
Putting Low-Code to Work
If you're researching low-code and wondering where to apply it in your organization, an excellent place to start is to look at some examples from users who are further along the low-code adoption path. On the OutSystems use-case web pages, you'll find usage scenarios, benefits, example apps, and customer case studies.
Digital Operations: Deliver brilliant web and mobile workforce apps, employee portals, workflows, and operational dashboards to support any process.
Customer Digital Experiences: Deliver engaging customer self-service apps, beautiful portals, and captivating experiences for your customers and users.
Digital Core Systems: Build large business-critical applications and deliver legacy modernization and digital re-platforming programs.
In Search of the Less Obvious
Part of the fear that low-code would restrict developers from building the kinds of applications they need is that it's not possible to use it to deliver solutions that take advantage of the latest technology such as IoT, AI, and blockchain. In this case, the OutSystems DevZone blog has you covered.
Use case: Build a mobile app with OutSystems to monitor solar panels.
In this article, Rui Barbosa gives you a crash course in:
Monitoring sensors, including power output (volts, amps, watts), temperature, and light level
Configuring a business rule to turn on a cooling fan above a threshold temperature
The OutSystems Forge where you can download, configure, and reuse cool IoT connectors for AWS and IBM Watson.
There's even a video of the resulting application in action.
Use case: Build a car auction marketplace.
By reading this article, you'll discover how to:
Build a blockchain-enabled app with OutSystems and open source Hyperledger Composer
Connect an OutSystems app to a blockchain app using industry standard API protocols
Add open-source libraries to OutSystems, which means you will never be locked-in and prevented from leveraging open source or custom components
Once again, there's a nifty video of the resulting application.
Use Case: Insurance Risk Management.
Watch this video to learn how:
Deloitte delivered a machine-learning and AI solution to make insurance underwriting less risky.
OutSystems provides the end-to-end process/user experience.
Find out more about the freely available AI connectors used to build this application in this news article and at the OutSystems Forge.
Customer Goals and Happiness
Returning to the survey, we asked respondents their main reasons for using low-code in their organizations. Their top three goals were:
Accelerate digital innovation and transformation (69%).
Reduce current IT backlog and increase responsiveness to the business (55%).
Reduce dependency on hard-to-hire technical skills (38%).
Other objectives included: enable citizen developers (21%), escape legacy debt (19%), and protect against technology churn (16%). Multiple answers were allowed if you're wondering why this adds up to over 200%!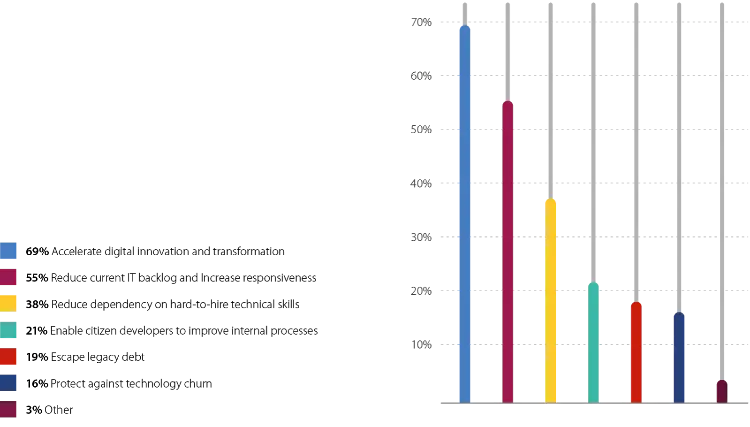 Happy Customers
It's one thing to know what goals these organizations had for adopting low-code, but it's another thing to know whether such lofty aims have been achieved. We cannot answer for all of these survey responders, as this was not a survey of OutSystems users. However, we can introduce you to some very happy customers of OutSystems.
Case Studies
At the last count, there were 101 written case studies and 49 video case studies on the OutSystems website. You can browse these by industry sector and use case.
Independent Peer reviews
Did you know, OutSystems is the most reviewed low-code platform on independent peer review sites? With hundreds of independent reviews across Gartner Peer Insights, Capterra, TrustRadius, G2Crowd, and GetApp, it is quite a job to keep track of them all. Visit our Happy Customers page for easy access to all of these reviews. As Gartner puts it, "No vendor bias, no hidden agendas, just the real voices of enterprise users."
Taking a more in-depth look at the Gartner Peer Insights site provides some interesting perspectives. Of the 238 verified reviews, the top five roles are applications, enterprise architecture and technology innovation, consultant, R&D/product development, and CIO.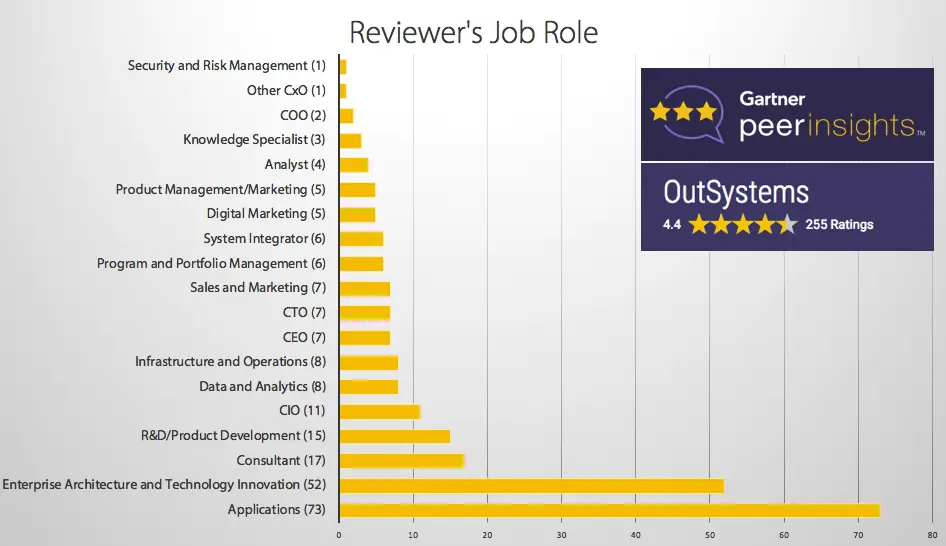 Returning to the original premise of this article, the top fear of those yet to adopt low-code is "We don't think we'll be able to build what we need with low-code." Does it seem likely to you that the audience shown above would award an average 4.4-star rating if that fear were borne-out?
If there's even a scintilla of such doubt in your mind, you better get along to Gartner Peer Insights to find out.
All of which leads me to conclude that, even though it may be difficult to get early adopters and more conservative buyers in the same room, in these days of peer review sites, it is at least easy to get them on the same page.*
*Psst. Want to meet-up? Check out our events page for details of events, conferences, and webinars where you can meet OutSystems
More Reading on Low-Code Myths
Myth # 2 – The Fear of Vendor Lock-in.
Myth # 3 – Low-code is insecure.
Myth # 4 – Low-code will not scale.
Myth # 5 – Low-Code will be bad for my career.
Webinar
Want to know more about the myths and realities of low-code? Check out our webinar.