A staggering amount of IT professionals will tell you that low-code platforms are only suitable for simple, departmental apps with limited users. But, is that really the case? If you're considering low-code for your next dev project, evaluating the best low-code platforms, or simply wondering how scalable low-code technology is, read on.

Table of contents:
In this blog post, I address this distressing distrust of low-code and explain how to measure the scalability of different low-code platforms. I also provide evidence of how high-performance low-code delivers scalability. You know what they say; the proof is in the pudding, but in this case–it's the icing on the cake.
Why Some IT Pros Distrust Low-Code's Scalability
An application is scalable when it can keep up with increasing resources without affecting performance and user experience. The idea that apps built with low-code are not scalable has a raison d'être. Many low-code vendors promise to empower citizen developers, which, for seasoned IT professionals, raises the flag that low-code is targeted at small, non-business-critical applications confined to user departments.
But therein lies the fallacy.
Just like any other development technology, not all low-code platforms are equal. Consider Ferrari and Ford. Yes, they are both automakers. But, do their cars perform the same, run the same, or even look the same? No. Well, neither do the platforms of low-code vendors. And, the platforms even have different use cases and target different personas.
In fact, its Wave report which is issued every two years, Forrester divides the low-code market into two:
Low-code for business developers that offers simple tooling and a more modest scale. This type of low-code platform includes Caspio, QuickBase, and AppSheet.
Low-code for professional developers that provide rich tooling and high scale. We can find platforms like OutSystems, Mendix, Microsoft, and ServiceNow in this bucket.
And if a bifurcated market weren't enough, there are now more than 250 vendors hawking low-code platforms. So, as you can see, with all the different flavors available, an answer to the question, "How scalable is low-code?" can only be everyone's favorite (not), "It depends."
So, what's a busy professional like you to do? How can you find out which low-code platforms scale and which don't?
I'm no superhero who can save the day with a rundown of all the platforms. Instead, think of me as a mild-mannered superhero alter ego who can provide a framework to help you evaluate how scalable a low-code platform can be.
Spoiler alert: You can expect a lot of references to OutSystems, the low-code platform I can confidently talk about, and how it stacks up against my framework.
How to Measure Low-Code Scalability
If you're kicking the tires on low-code, there are two scalability types to consider. Runtime scalability is the ability to increase the capacity of deployed applications and provide fast user experiences for large numbers of users and compute-intensive operations. Dev-time scalability is the ability to build and manage large, interconnected portfolios of applications that address multiple use cases simultaneously all the time or when needed.
You might have been expecting a treatise on vertical and horizontal scaling, but as you'll soon see, the above framework supports a more thorough exploration of how to make low-code scale.
1. Runtime Scalability
Runtime is the simpler of the two scalability measures and the one commonly considered by industry analysts. Let's go back to our friend Forrester, which includes scalability as one of the aspects that divides the low-code market. While low-code for business developers has a more modest scale, low-code for pro-devs focuses on higher levels of scalability.
In the same sense, Gartner, in its Magic Quadrant for Enterprise Low-Code Applications Platforms, considers that enterprise LCAPs are "used to create enterprise-class applications that require '' (among other things) high performance, high availability, and scalability. Industry analyst Jason Bloomberg of Intellyx, in his blog post High-Performance Low-Code: Essential Enterprise Digital Transformation Enabler goes even further.
According to Bloomberg, enterprise low-code has indeed moved beyond supporting the creation of simple departmental applications, offering capabilities centered on integration, security, and regulatory compliance instead. But, as Bloomberg notes, the advent of cloud-native technology and practices is changing the low-code market once again. And I'm seeing a new breed of low-code emerge. This breed uses cloud-native technology, such as Kubernetes container orchestration, and it also runs in multi-cloud, hybrid environments, or both.
I'm talking about a "high-performance low-code platform" that achieves enterprise-class scale while supporting rapid development of multiple applications in parallel.
OutSystems vs. Runtime Scalability
OutSystems is currently the only high-performance low-code platform. One reason why is because enterprise-grade runtime scalability has been top of mind at OutSystems for the seven years I've been here–and even long before that. With OutSystems, you can meet even the most massive of customer requirements with vertical and horizontal scalability and support for containers and microservices built-in. And, applications generated by the platform can run independently of any OutSystems components. This means:
You can deploy and scale the applications you create to any of the following: OutSystems cloud, AWS, Azure, and Pivotal PAS; or, if you prefer, you can deploy into a multi-cloud, hybrid, or on-premises infrastructure.
You can scale from a pilot project to an Internet-wide deployment that supports millions of users. When it comes to scalability, with OutSystems, the only limit is your imagination.
But, wait, there's more! OutSystems is bringing cloud-native to low-code with OutSystems Developer Cloud (ODC), which combines state-of-the-art, cloud-native architecture and the next generation of visual, model-driven professional development tools with elite-level CI/CD practices.
You can learn all about our low-code cloud application platform, OutSystems Developer Cloud (ODC), here.
How Scalable is a Low-Code Platform? Putting It Into Test
Now, let's get real: imagine a mobile banking app on Black Friday. That's about 20 million users with thousands of concurrent accesses. This is what we pitted against our OutSystems mobile back-end—the server side of OutSystems.
Read the Massively Scaling Mobile Apps white paper and get the full story.
2. Dev-Time Scalability
Now we turn our attention to the other dimension of low-code scaling. What would development look like if low-code development really took off in your business and became the standard way of working?
For one, multiple developer teams would work on different applications in parallel. Those applications would span multiple use cases, including customer apps and portals, internal applications and web portals, and core systems. The broader scope of digital core projects would require the coordination of larger development teams, with more moving parts and greater cross-portfolio dependencies.
As your portfolio of low-code-delivered applications matured, performance monitoring and continual improvement of those apps would become increasingly important. And with the rising scale and associated complexity, your development team would need to keep the continued productivity advantage that they've come to expect from low-code.
OutSystems vs. Dev-Time Scalability
By visiting OutSystems case studies pages on the website, you can find many customers who have successfully scaled their use of low-code to scores of applications, dozens of developers, and multi-year, continuous delivery and update of those systems. Here are just two examples:
Leading Insurer Liberty Seguros has been using OutSystems since 2004, has over 29 developers, and has delivered 83 applications. They've retired multiple expensive and inflexible COTS (aka commercial-off-the-shelf) applications, made multi-million license and maintenance savings, and claim a four-to-five times delivery speed advantage.
Vopak, the world's leading bulk liquid storage company, rewrote its entire ERP system—a project originally slated for three years–in just 16 months. They now enjoy massively improved agility, having escaped an ERP system that was a sinkhole in the past.
OutSystems Capabilities that Support Dev-Time Scalability
Let's explore the OutSystems capabilities that support dev-time scalability.
1. Architectural Agility at Scale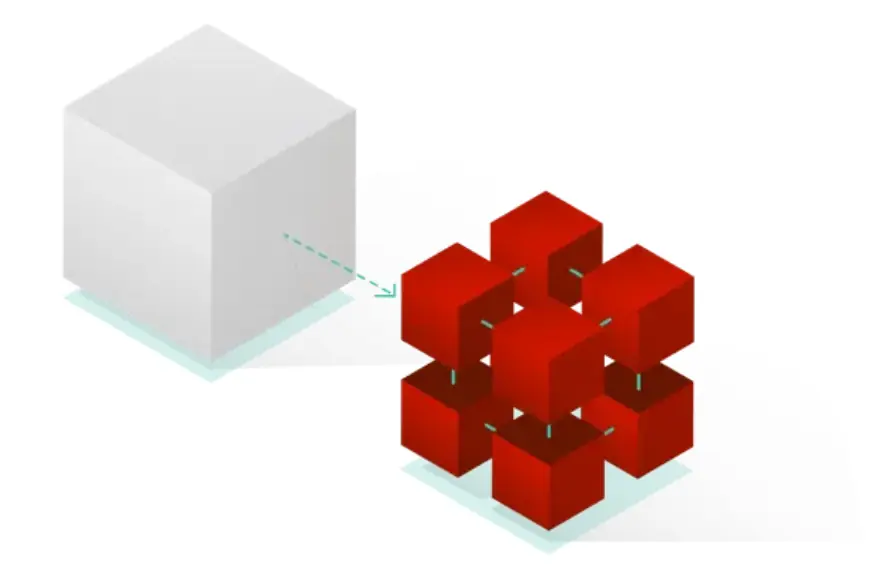 OutSystems provides in-depth impact analysis of entire systems before their release, providing the advance warning needed to ensure builds don't break. This saves dev teams hours of validating and fixing cross-architecture impacts on complex sets of apps or large systems. You can effectively implement a full-fledged microservices architecture. Teams are more agile, safely creating and changing reusable services and applications fast and at scale.
2. Monitoring and Troubleshooting at Scale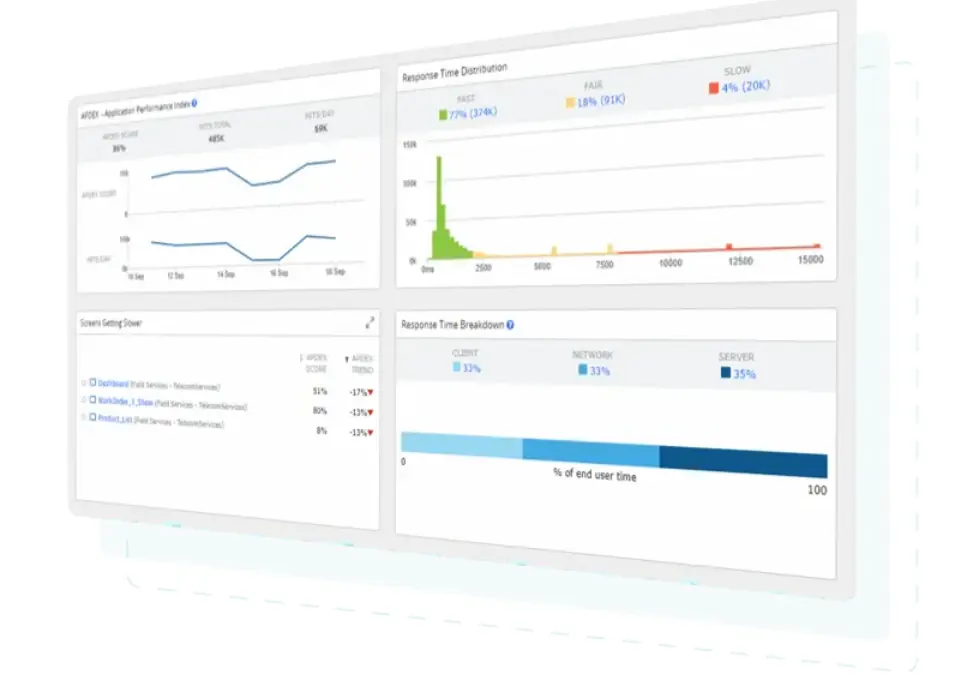 OutSystems has embedded monitoring, out-of-the-box analytics, and built-in dashboards that highlight app performance concerns or breakdowns. Dev teams can identify choke points or services that are down before they impact the health of the entire portfolio (SaaS and external legacy systems included).
3. Governance at Scale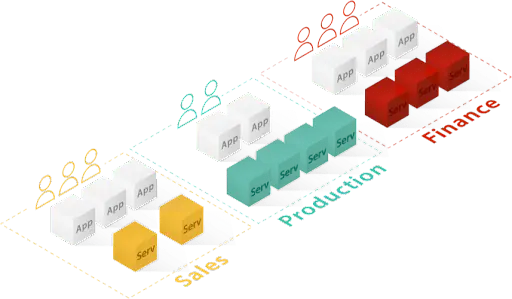 With OutSystems, you can control who can create and manage services and who can consume them, using a full entitlement model that extends to all apps and services. As a result, you can structure parallel development teams based on delivery for each business area. Multiple continuous delivery pipelines work independently, while still modularizing and reusing services.
4. Operations at Scale
OutSystems can deploy apps and services to leading container-as-a-service and platform-as-a-service providers, including Amazon Elastic Container Service (Amazon ECS), Azure Container Service, Pivotal Application Service (PAS), and on-premises Docker container environments. The result? Your dev teams can take advantage of streamlined, lean operations, faster deployment, increased scalability, resilience, and portability.
"Scalability vs. Low-Code": The Verdict
In previous blog posts, I've debunked a few low-code myths, namely inflexibility, security, and vendor lock-in. In this one, I hope I've made it easier for you to consider the scalability credentials of low-code platforms.
If you want more details about high-performance low-code or the scalability of OutSystems, why not explore the OutSystems platform?