Perspectives
2023 Top Low-Code Platforms Evaluation: 6 Practical Takeaways from the Gartner® Magic Quadrant™
According to Gartner Magic Quadrant for Enterprise Low-Code Application Platforms 2022, the low-code market "is expected to reach $29 billion in revenue by 2025".

Table of contents:
With the increasing demand for digital services and apps, IT leaders are turning to low-code platforms as a way to maximize their agility in a way traditional development can't.
In this year's Magic Quadrant, Gartner included 17 low-code providers, and named 5 of them a Leader.
To save you time and shed some light into evaluating the top low-code vendors, we've listed the main takeaways from this year's report together with actionable insights.
For the full report, you can get a complementary copy here →
Clarifying the Market: No-Code, Low-Code, and High-Performance
Gartner defines an Low-Code Application Platform (LCAP) as,
"(...) An application platform that is used to rapidly develop and deploy custom applications by abstracting and minimizing or replacing the coding needed in development."
We believe this definition is quite broad as it includes the whole spectrum of visual development tools, going from no-code to enterprise low-code.
In fact, the low-code market is grouped into two:
No-code and, let's call it "regular low-code": suitable for simpler use cases
Enterprise low-code: platforms that support high performance development and DevOps, availability and scalability.
This categorization is done based on the functionality scope provided in the Magic Quadrant: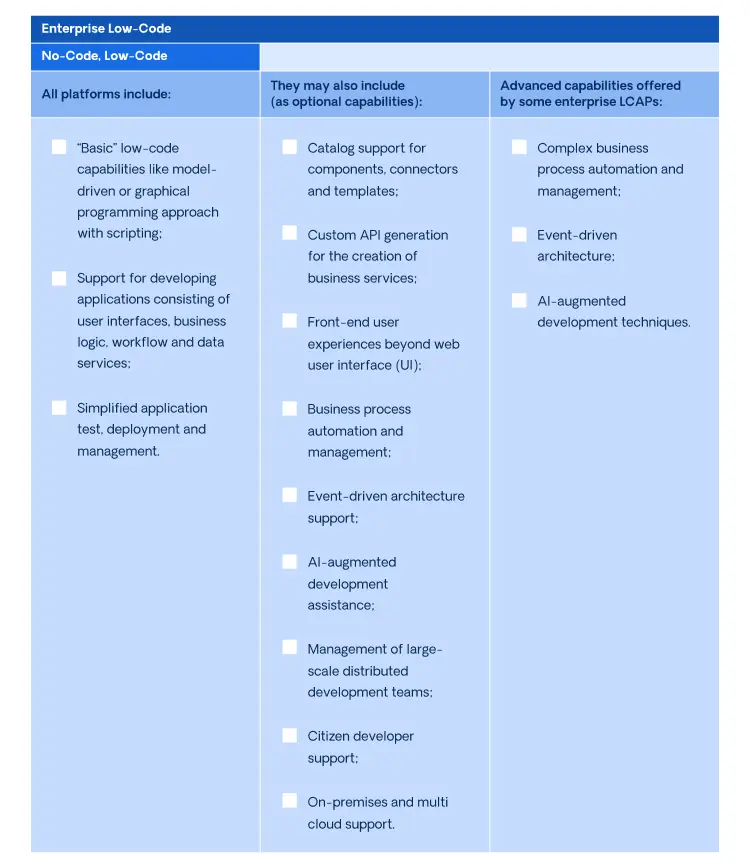 Low-Code Comparison: What Should You Look For in an Enterprise Low-Code Platform?
If you're looking to build simple internal web applications, we believe that any platform in the Magic Quadrant is a good option. Looking at the table above, all platforms, even the most basic ones, include all the needed functionality for such use cases.
But if you're looking to maximize your investment in low-code, you should look for a platform that covers a broader range of use cases, from the simple web application to more complex and strategic use cases like mobile customer experiences and cloud native app dev.
To help you out, and considering today's enterprise requirements, here are 6 value vectors that differentiate the best low-code platforms and that you should include in your request for proposal (RFP) for low-code.

1. High quality omnichannel experiences
In today's digital age, engaging mobile apps are critical for any customer experience strategy. But many low-code platforms are not optimal for external apps, including mobile with a pixel-perfect control of the user experience.
If you're looking to use low-code to create engaging omnichannel apps including mobile, take a closer look into the Vertical Axis/Product offering in the Magic Quadrant, and "User Experience Design" in its companion LCAP Critical Capabilities.
Then consider these next few questions:
2. Breadth of app types you can build
If you're looking for an LCAP to build simple workflow applications, you'll find many good providers in this year's Magic Quadrant that are strictly focused on this type of solution.
But for more complex use cases, you'll need to go beyond workflows. To avoid expanding your tech stack and forcing your dev team to learn and integrate yet another tool, consider a low-code platform that provides a broader scope of use cases.
Pro-tip: take a look at the Magic Quadrant' companion report, Critical Capabilities for Enterprise Low-Code Application Platforms and see how the different vendors are scored for each of the main low-code use cases. This includes:
3. Security automation and built in DevSecOps
If you're planning to create customer-facing apps, external or even enterprise-wide solutions, or are in a highly regulated industry, the basic security mechanisms that most low-code platforms offer, like automatic testing and integration with existing testing tools might not be enough.
So, consider a platform that provides additional security mechanisms like software composition analysis, that generates real code (instead of interpreter code that most platforms offer) enabling your dev team to scan for security vulnerabilities, and review if the code is following best practices.
You can explore more about low-code security in this article.
4. Licensing clarity and predictability
In 2023, many markets see a potential recession, therefore, cost management is crucial. So, when you're evaluating the top vendors, pay closer attention to their pricing model.
Many platforms start with a "cheaper" price, but as you expand your use cases, it requires more products and licensing. As you start evolving your low-code digital factory, you might end up with an unpleasant bill.
Keep that in mind. Look for a platform that provides you a transparent, "what you see is what you get" approach when it comes to pricing. If you're interested in seeing what you can get with OutSystems, check out our pricing page.
5. Reusability, composability and governed innovation
In the Magic Quadrant, you'll find low-code platforms that target citizen-developers, professional developers and, in some cases, both. Whenever a platform targets citizen developers you need to make sure it provides a governance mechanism to ensure "citizen development" doesn't turn into shadow IT.
Ungoverned citizen development can lead to a complex app portfolio of disconnected applications that are difficult to track and even harder to maintain, not to mention the risk of data leaks and other security vulnerabilities as it happened with some large vendor platforms.
At OutSystems, for example, we target professional developers providing a high abstraction to full stack development power, but our visual IDE supports visual communication and cross-collaboration between IT and business stakeholders (or "fusion teams") rather than "stand-alone citizen development".
You can explore more about our governance capabilities in this Tech Talk.
6. Platform engineering and DevOps integration
The right low-code platform should complement and coexist with traditional dev. This means that a high performance LCAP shall offer both a "1 click publish" capability (patented by OutSystems in the USPTO) but also be open enough to integrate with your team's preferred SDLC tools.
Only a few LCAP vendors offer this dual capability to be powerful fast when needed, and open for SDLC handovers with a deployment API.
You can explore more about low-code and devops in this article.
Get Your Copy of the LCAP Magic Quadrant
The low-code development utilization is growing so seriously that Gartner has forecasted this market will represent $29 billion by 2025, so you probably want to be on the right side of history.
We hope that our 22 years of experience being obsessed with giving our customers the power to innovate through software will help you find the right platform for your use cases.
To get the full report, click here.
If you would like to talk with an expert about OutSystems, book your call here.
---
GARTNER is a registered trademark and service mark of Gartner and Magic Quadrant is a registered trademark of Gartner, Inc. and/or affiliates in the U.S. and internationally and are used herein with permission. All rights reserved.
The report name was changed in2019 from 'Magic Quadrant for Enterprise High-Productivity Platform as a Service' to 'Magic Quadrant for Enterprise Low-Code Application Platforms".
Gartner does not endorse any vendor, product or service depicted in its research publications, and does not advise technology users to select only those vendors with the highest ratings or other designation. Gartner research publications consist of the opinions of Gartner's research organization and should not be construed as statements of fact. Gartner disclaims all warranties, expressed or implied, with respect to this research, including any warranties of merchantability or fitness for a particular purpose.
Frequently Asked Questions
The Gartner Magic Quadrant for Low-Code Application Platforms (LCAP) is a research report that evaluates vendors in the
low-code development market
 based on their ability to execute and their completeness of vision.
A Magic Quadrant provides a graphical competitive positioning of four types of technology providers, in markets where growth is high and provider differentiation is distinct:
Leaders execute well against their current vision and are well positioned for tomorrow.
Visionaries understand where the market is going or have a vision for changing market rules, but do not yet execute well.
Niche Players focus successfully on a small segment, or are unfocused and do not out-innovate or outperform others.
Challengers execute well today or may dominate a large segment, but do not demonstrate an understanding of market direction.
Gartner included 17 vendors in 2022. Five of them were named a Leader, including OutSystems, with the highest ability to execute.
The rapid increase in enterprise adoption and usage of enterprise LCAPs is driven by three key trends:
Democratization: On average, 41% of employees in an organization are business technologists — that is, employees who report outside of IT departments and create technology or analytics capabilities for internal or external business use. In a Gartner 2021 survey 1 on business technologists, these non-IT employees primarily use either a low-code or no-code approach to create analytics or technology capabilities, versus manual coding.
Hyperautomation: Hyperautomation involves the orchestrated use of multiple technologies, tools or platforms. LCAPs have emerged as a key component of successful hyperautomation, with low-code development tools being among the three tools used the most (based on frequency and volume) to support automation initiatives.
Composable business: Organizations are adopting application composition technologies that enable fusion teams to implement composable applications. LCAPs are one of the key technologies that drive greater exploitation of application services, functionalities and capabilities.