All the articles about all the "best low-code development platforms" in all the world and you stumbled onto mine. I'm glad you did.
Searching a topic like this is bound to return all sorts of results. From paid vendor ads trying to get you to click on their link first, to legitimate research material and articles aimed at educating readers on the topic, it's all there. With this much noise, it's not always easy to know whom to trust.
I've been working in the app development industry for (mumble mumble) years now, and whenever a hot trend appears, it usually attracts all sorts of providers and posers. And the low-code market is no exception. So, to help better understand the low-code landscape and the differences between one low-code platform and another, I came up with this, let's call it guide, to help you find the best app development platform for your business needs.
So, let's start by setting the stage. After all, we want to make sure we're comparing apples to apples, because there is a lot of, well, fruit out there (including some smelly durian!)
Low-Code Development Explained
Low-code is a way to design and develop software applications fast and with minimal hand-coding. It enables skilled people to deliver value more quickly and more reliably. Using visual modeling in a graphical interface to assemble and configure applications, developers skip all the infrastructure and re-implementation of patterns that can bog them down and go straight to the unique 10% of an application.
How Can Low-Code Help You?
In other words, low-code is basically an abstraction of doing things the hard way. Think about the banking industry for a sec.
On one side of the spectrum, you have all this new cool fintech coming out, like Revolut and N26, that are attracting all the younger people because they're delivering mobile apps and a bunch of exciting new features. And on the other side, you have those old banking institutions that are just now getting familiar with the concept of digital banking. They usually struggle to catch up with the new kids on the block because they have these old, legacy systems slowing them down, and lack the time and resources to proceed with a disruptive modernization program.
Let's be honest: software development is hard.
Low-code wraps up the complexities that developers typically face when creating an app or system. So all those repetitive and boring tasks like dependency management, code validation, and automatic builds are done by the platform so that developers can focus on the extra mile that makes the difference and help the business innovate more quickly.
"Low-code is basically an abstraction of doing
things the hard way."
The most advanced low-code platforms usually include capabilities that developers already use in their day-to-day job so that they quite literally have everything they need, right at their fingertips. So, stuff like:
UX/UI reusability. A low-code platform should either give you templates or if you create templates make those reusable so that when you create more applications that part is already taken care of.
Testing tools. A low-code platform should include checks for common errors and incompatibilities that could affect your apps' performance and user experience, so that compiled code works as expected when deployed.
Best practices to ensure your apps are compatible and compliant with different operating systems and browsers. A low-code platform should have standards and compliance tools embedded to help developers create applications for the web and mobile devices.
Source control solution. A low-code platform should host its code and maintain version control in case there's ever a need to revert to a previous version.
These are just a few of the features you should keep in mind when choosing a low-code platform.
How to Evaluate the Best Low-Code Platforms
OK, so by now you should already know everything you need to know about low-code and are ready to choose the best solution for your business needs (if you need more information, we have a few other blog posts that can be useful for you like Low-Code Benefits, Low-Code vs No-Code, or What Can You Build With Low-Code?). But with so many low-code vendors out there, where should you start?
Here's a quick guide to help you navigate through the sea of low-code vendors.
Step 1: Focus on the Output
What is it that you want to build? Is it a single web or mobile application, is it a solution to integrate different systems, is it a full digital factory?
The low-code market is quite broad and there are different low-code platforms for different business projects or needs. If what you're looking for is a low-code integration platform, then Dell Boomi might be the best solution for you. If you want to build web, mobile, and microservices that are rock solid, secure, and stable, then OutSystems might be one.
Always start from the very beginning, by answering this question: what is it you want to get when you hit publish?
Step 2: Take a Look at Analysts Reports
Now that you answer that first question, it's time to start cutting names from the list. The good news is you don't have to call all the 400+ self-proclaimed low-code vendors and do a ton of research because the low-code vendor landscape is widely covered by leading industry analyst firms. A few firms cover peripheral focus areas that intersect with low-code, such as customer experience (CX), but they don't provide coverage for low-code vendors per se.
So, relevant reports in the low-code industry include:
Take a look at these reports and focus on the better-rated vendors on the top right corner of both Gartner's Quadrant and Forrester's Wave.
Another good reference are users' reviews websites to see what actual users say about the usability and vendor experience of the different platforms. If you're not sure where to start, check out Gartner PeerInsights and G2 Crowd.
Step 3: Let Them Fight
By now you shouldn't have more than four or five vendors on your list. If you're still not sure which one to choose, give them a call and let them fight.
To help you in that conversation, here are a few questions you can ask: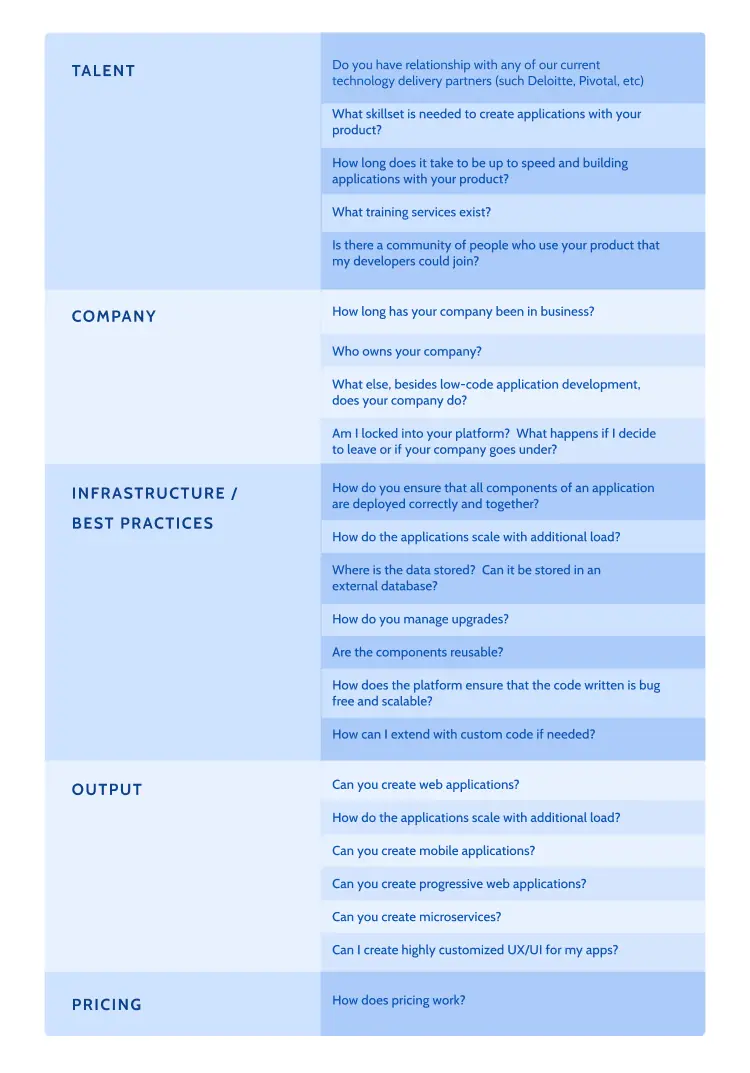 In the meantime, look for solutions that offer free versions of their products, preferably full-featured versions and not limited "Trial Versions" that don't provide access to all of the features (and limitations) so that your dev team can get a real taste of what you're about to be working on.
That's All Folks
Hope you find this guide useful. To help you in your quest, you can use this spreadsheet to score the different app platforms based on the most critical capabilities for your business. You can just make a copy and edit it as you wish.
About OutSystems
OutSystems is a modern application development platform that gives enterprise developers the tools they need to build and manage entire portfolios of enterprise-class applications, and not just simple departmental apps as most no-code/low-code platforms.
Our mission is to give every company the ability to innovate through the power of software. We take a first-class development approach to enable professional developers with the ability to build serious applications—from modernizing legacy systems to delivering great customer experiences—at the speed, quality, security, and scalability required.
If you want to learn more about OutSystems, I'm happy to help you with that, just ping me at @ Keith Murphy. Or you can witness OutSystems power for yourself by signing up for our free edition — yes, it's forever free.