Cloud computing has become the new watchword for healthcare institutions. The adoption of cloud technology has been increasing at a frenetic pace and, as recent research shows, by 2022, the global market for cloud technologies in the industry is expected to reach $35.0 billion.
So why the sudden hype about this technology? The reason is simple. If before healthcare institutions were "simple" service providers, today, they're true technology organizations that depend on their IT departments for clinical, administrative, and financial functions.
And that's not all. As patient expectations change and new payment models are added to the equation, technology has become crucial to improve patient care, drive efficiency, and eliminate waste.
In this blog post, we'll analyze why cloud computing is so appealing for the medical field, and how it supports the efforts to improve patient care and reduce costs.
Discover how low-code is helping the healthcare industry accelerate its digital strategy
Top 6 Benefits of Cloud Computing for Healthcare
You can look at cloud computing as a virtual office that gives you the flexibility to connect to your business from any device anytime you want. So, what does this mean to the healthcare field, and why should you consider it over conventional in-house technology?
To help you answer these questions, here are the top 6 benefits of cloud computing for healthcare.
6. Collaboration
With healthcare organizations moving towards value-based care payment methods, collaboration between different doctors, departments, and even institutions is of the essence. Through a cloud computing server, medical providers can transfer data between each other boosting collaboration for better treatment.
5. Artificial Intelligence and Machine Learning
According to a recent Gartner report about the healthcare predictions for 2019, artificial intelligence is moving into mainstream healthcare operations.
As more and more cloud platforms integrate AI and ML into their services, cloud computing can support this transition and help users manage massive amounts of data.
You can download the full Gartner report, Predicts 2019: Healthcare Providers Must Embrace Digital Transformation, in this page.
4. Data Storage
Healthcare providers have to deal with electronic medical records, patient portals, mobile apps, and big data analytics. That's a lot of data to manage and analyze, and not all in-house equipment has the capacity to store it.
Cloud computing allows healthcare institutions to store all that data while avoiding extra costs of maintaining physical servers.
3. Scalability
Unlike conventional self-hosted models, cloud computing gives healthcare providers the flexibility to increase or decrease their data storage depending on the patients' flow.
This way, healthcare institutions can adapt their technology to peak seasons—for example the flu season, where the volume of patients increases—without wasting time and money with the latest hardware purchases or software updates.
2. Cost
Here's a challenge companies across all industries are familiar with: tight budgets. In the case of healthcare, 75 percent of the IT budget is absorbed to maintaining existing systems, leaving little or no room for innovation.
Since cloud computing runs under a subscription model, healthcare providers can save up money from purchasing expensive systems and equipment. Plus, by adopting a cloud server, healthcare institutions can also reduce costs by using the resources the cloud provider offers.
1. Security
One of the most common concerns when talking about the cloud is how secure is it to have all your apps and patient data in a third-party server? Especially when organizations need to comply with regulatory frameworks like Europe's General Data Protection Regulation (GDPR) for the protection of personal data, or the US's Health Insurance Portability and Accountability Act (HIPAA) for secure data portability, or the HITRUST Alliance's CSF, an industry-mediated certifiable standard for safeguarding sensitive information.
But if done well, cloud servers help increase the security of healthcare providers. In the case of on-premises solutions, if the equipment fails, medical institutions may lose all their data and applications. This could mean a potential breach that healthcare institutions can't afford to risk.
Cloud computing not only allows its users to access the information remotely, as it includes automation of backups and disaster recovery options. This way, in the case of a breach, healthcare providers don't lose any data and are able to minimize the downtime for their staff.
Plus, nowadays, most cloud providers offer security, risk management, and monitoring services to protect its users from unauthorized access and breaches. It's all about analyzing the cloud service and what it provides.
Choosing the Right Platform
Choosing the right technology provider isn't a decision that can be taken lightly. As we saw, security isn't just a nice to have feature when it comes to moving to the cloud. In fact, currently, the US Department of Health and Human Services Office for Civil Rights is investigating over 400 reported breaches of health information.
But, the opportunities of cloud computing are plenty, and with the proper safeguards, the fears related to data privacy and security can be mitigated.
Enter low-code development.
OutSystems is a low-code platform that allows you to deploy your applications on cloud or on-premises. With a strong security offer for the cloud—OutSystems Sentry—and no vendor lock-in, OutSystems has been helping healthcare providers, such as NHS PHP and US Acute Care Solutions, accelerate their digital strategy.
Healthcare providers can use OutSystems to:
Drive revenue growth through personalized patient experiences
Improve clinical productivity through data transparency
Streamline operations and deliver care beyond the hospital
Improve patient care with enhanced analytics
To learn more about OutSystems for healthcare visit our page. And to discover the OutSystems cloud services, check out our Evaluation Guide.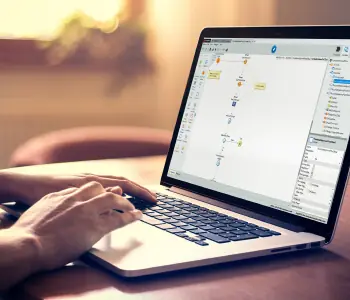 Use OutSystems Now!
Get your first app built in a few minutes.
It's free forever.