As Albert Einstein said "Creativity is intelligence having fun." At OutSystems, we want to stimulate creativity and have a more innovative R&D; that's why we created the Open Days. A three-day event where our team can try new ideas, be creative and feel powerful.
"A bookmark is a saved shortcut that directs your browser to a specific webpage," according to website TechTerms.
Pedro Melo Rosa, Senior Developer at OutSystems, thinks it'd be good to have a bookmark feature in Service Studio. Let's find out more about it.
---
Pedro, the Creator
I started as an OutContractor in October 2009, and in January 2021 I became an employee and part of the ART (Agile Release Train) Integration Builder, which is an add-on to the core product. I'd heard about Open Days, months ago, and I wished to take part but I hadn't found the time. Eventually, with that wish and the company's growth mindset goals, I could have the best of both worlds. I thought about an idea and applied it.
The Open Days are a great initiative to deep dive into our product, work, learn new things, and to leave my comfort zone.
The Inspiration
Before I joined OutSystems I was working with .NET and Visual Studio, the integrated development environment (IDE). Visual Studio has a bookmarks feature. As it happens, sometimes I miss that feature so I thought, why not come up with some?
The Process
On the three days of Open Days, I worked on the idea by myself, although when I was blocking on something I'd talk to Team Lead Nuno Maurício. He always pointed me to the right people.
It's a Hard Knock… Code Source
Setting up the environment to be able to use Service Studio was hard. There was a little mistake in Confluence's tutorial, but someone fixed it after. It was also my first time working with our core product.
What Does the Bookmark Idea Consist Of?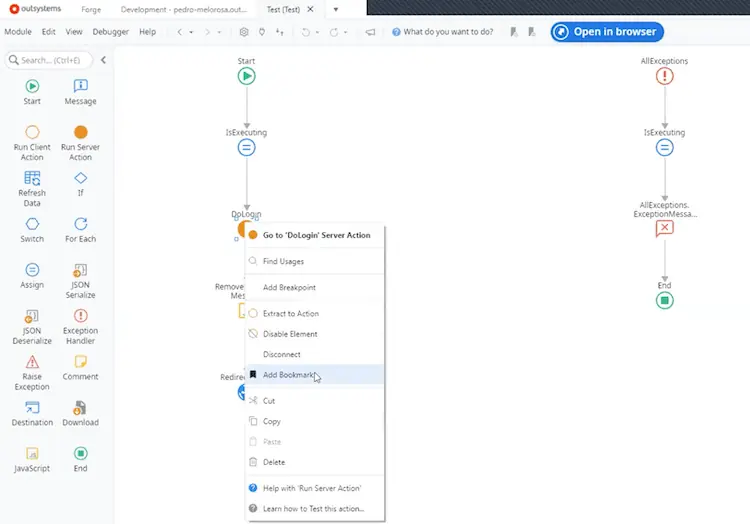 In Service Studio you can open several modules at the same time. Each module has screens and server actions (where the code is at). When we're working we open one server action here and there, we need to go to a screen and then be back to the first action — we need to jump around to see what to do. What happens is that sometimes we think, "I want to go back to that code that did that action and now I don't remember where it was."
With a bookmark, you can simply put several labels on specific points of the code, or in the diagrams, have a list of bookmarks, and directly jump to those points of interest.
Everyone who uses Service Studio would benefit from the feature. This is not related to code; the goal is to help developers navigate in Service Studio.
The problem I want to solve with this feature is speed of execution. Sometimes you can have a big project with a huge list of actions and it can be difficult to go from one point to another.
Of course, there'll be more options in the context menu, two or three buttons in the toolbar but that's it. No big cons.
After All, What Was in It For Me?
I believe that when ideas show up and when they are converted into reality the motivation to pursue more ideas increases. But I look at creativity as something intrinsic in people.
It was great to participate in the Open Days and to hear that people found my idea useful.
I dove into Service Studio code and learned new terminology. I became familiar with concepts I was hearing in other teams but were only abstract to me.
---
Now, your turn, what do you think about Pedro Melo Rosa's idea? Share your thoughts with us.