A good customer onboarding journey can make or break a business. Customers today are so used to seamless experiences like the ones provided by Google, Amazon, or Apple that their perception around what's considered a good user experience has shifted radically. Thanks to those companies, users expect to complete a journey with as few steps as possible, wherever and whenever they want. And if they don't get it, they'll quickly lose interest and walk towards the next available alternative.
A customer onboarding journey is one of the first interactions a customer has with your business. Thus, how simple or complex it is, determines if they'll start using your product or service or drop out even before becoming a customer.
But what does a good customer onboarding journey look like? That's what we'll see in this article.
What Is Customer Onboarding?
Let's start from the basics.
A customer onboarding journey is an end-to-end process a user goes through to start using your product or services. Given the acceleration of digital transformation that companies were forced to adopt in response to the pandemic, nowadays, a customer onboarding journey usually involves a mobile, web, tablet app or PWA flow that guides the new customer through all the steps and processes required to start using a product or service.
Typically, customer onboarding includes the following steps:
Collect personal information, such as name, address, birthdate
Collect qualifying details
Verify the user's identity
Select product/service options
Set up payment method (e.g. credit card, PayPal)
Get confirmation of their subscription/order.
Why Is It So Challenging to Get It Right?
The problem is, most customer onboarding processes still rely on manual, paper-based tasks that not only increase effort but are also expensive and time-consuming. And that's just the tip of the iceberg.
According to Deloitte:
Onboarding apps typically include multiple forms requesting repetitive information and questionnaires with complex legal language;
Clients are contacted around 10 times during the onboarding process via back-and-forth emails, telephone interactions, and face-to-face meetings, creating high friction, error-prone customer experience;
Document handoffs between different teams can present operational and information risks because of the inability to control related security and privacy.
The truth is, most organizations' current customer onboarding processes are cumbersome, highly manual, some of them requiring prospects to visit physical stores or branches, fill in paper forms, provide original identity documents and get hold of paper copies of bills that are mostly delivered electronically these days. Sounds familiar?
These requirements result in many points of friction and can lead to significant levels of drop-out mid-journey. And that can cost a company a lot of money. In fact, a study by Deloitte about the banking industry showed that the onboarding process could take up to 16 weeks to complete, and banks may end up investing as much as $20,000 - $30,000 to onboard a new client.
So, why aren't organizations investing in better onboarding journeys?
Well, mainly because of three things:
A good onboarding journey requires high-quality UX/UI, and this is hard to achieve without specialized UX/UI resources.
Traditional development takes too long, and expert developers are difficult and expensive to hire
It's nearly impossible for a company to keep up with all the updates needed to tweak onboarding journeys based on usage monitoring, especially if they are scattered across multiple channels and different base codes.
So, is that all there is? No
How to Deliver a Successful Customer Onboarding in 2021 and Beyond
The principles of good customer onboarding are:
Reduce the onboarding journey time as much as possible
Make the onboarding easy
Let customers start using your services immediately.
To do so, there are three areas where technology leaders can have a decisive impact:
Invest in technology that lets them build high-quality, frictionless digital onboarding journeys for any touchpoint without specialized resources;
Invest in technology that enables the automation of processes to make onboarding scalable;
Invest in technology that makes change easy so that onboarding solutions can be continuously improved to meet customers expectations.
Let's dive in.
1. Build High-Quality, Frictionless Digital Onboarding Journeys
Today, several technologies help remove friction from digital onboarding journeys and make the process of signing up for a service or buying a product as effortless as possible. Here are just a couple of tips:
Progressive Web Apps (PWAs) are used by some of the world's biggest brands – including Facebook, Forbes, Gmail, Pinterest, Google Maps, Trivago, and Tinder. They provide a rich, performant experience similar to a native mobile app without the need to download an app from a store – which is time-consuming, data-intensive. and adds a lot of friction to the process. Because the storage requirements are much smaller – for example, the Starbucks PWA requires less than 1% of the storage requirements of its mobile app – PWAs load quickly, keeping prospective customers engaged. The benefits of using PWAs as part of your customer acquisition process can be huge: when China-based Alibaba introduced a PWA for its AliExpress service, it increased conversion rates for new users by 104%. To learn more about how to leverage PWAs for fast and easy digital customer onboarding, check out this session.
Harnessing and connecting data from both internal systems and external data sources to create a unified experience is another way of removing friction. Have you eliminated the silos in the system so that information held in one part of the system can be readily used by another? Can you integrate with location services to auto-complete an address? Is it appropriate to use services like Google Pay or PayPal to automate the provision of card details? Nothing turns off a prospect faster than filling in endless forms. The more you can do to reduce the number of steps required to sign up for your service or buy your product, the more likely they are to stick with the onboarding process to the end.
2. Enable the Automation of Processes
Automation and digitalization of business processes help organizations break down internal silos, reduce manual work, and create a consistent experience across channels while increasing efficiency and reducing errors and data breaches. In fact, in a study focused on the banking sector, Deloitte concluded that organizations could see overall savings of ~30% - 50% with the implementation of automation.
Automation in an onboarding journey can be applied to things like identity verification or credit scoring checking that we commonly associate with the banking sector but are also being used in a range of different industries, including gaming, telecoms, travel, healthcare, and more, due to broader enforcement of KYC (Know Your Customer) regulations.
Clearly, any company that requires a customer to physically present a driver's license or passport to sign up for a new service will compare very poorly with one that can initiate an onboarding process by simply scanning the same document. With OutSystems, companies can integrate their apps with industry-specific APIs or third-party services such as digital signatures and document authentication that can dramatically streamline onboarding processes and improve customer satisfaction.
3. Make Changes Easy and Improve Continuously
If there was something that 2020 showed us is that companies need to be able to pivot quickly in response to changing needs and circumstances. However, even Agile methodologies can't meet the accelerated deployment schedules that businesses now demand if you rely on traditional ways of building software or legacy systems.
Instead, IT leaders need to put into place new approaches that allow them to create high-quality customer-facing applications much faster and continuously iterate them.
Whether it's an analysis of drop-off rates that reveals customers are struggling with a particular part of the process, suggestions from CX and UX professionals on how to remove friction – or even feedback from customers themselves – any digital customer onboarding process will require continuous iteration to increase conversions.
That's where a high-performance low-code development platform comes in. OutSystems uses AI-enabled visual development, pre-built UX/UI templates, reusable components across channels, and automated delivery to any app store to simplify omnichannel development so that organizations can rapidly deliver apps for mobile, web, chat, voice, and AR/VR by using a single platform and development team.
What's more, with OutSystems, development teams can put new capabilities into production in hours or days instead of weeks or months with full lifecycle automation while ensuring that, whatever changes they make, nothing will break, thanks to TrueChange, an AI-powered automation layer that checks application dependencies, performs impact analysis, and provides self-healing capabilities.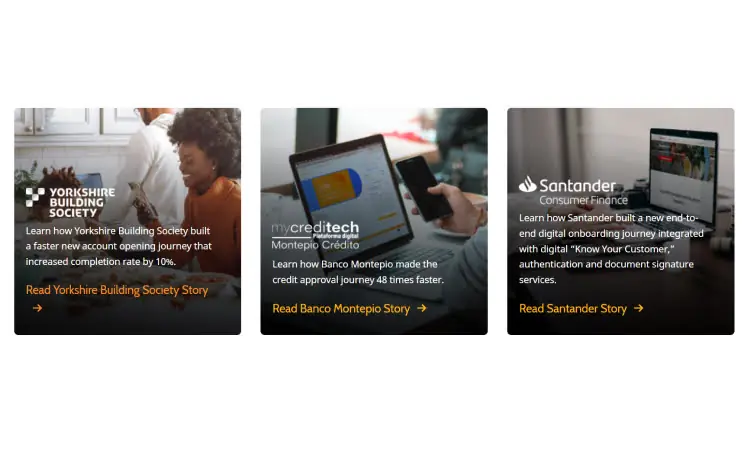 Attract and Retain Customers from Day One
Regardless of the company, industry, or geo, every new customer expects the same from an onboarding journey: speed and ease.
The OutSystems platform is a cost-effective way to build intuitive, fast, and accessible onboarding journeys that will convert more prospects into customers at a lower cost and improve satisfaction and retention.
With OutSystems, you can build onboarding journeys faster but also change them and customize them easily, without depending on highly skilled developers or outsourced services.
Want to learn more about it? Take a look at our New Customer Onboarding page.