Do you remember when you had to go to the nearest Italian restaurant to enjoy a delicious margarita with pepperoni and extra cheese? Best case scenario, you'd call the restaurant and have them deliver it to your home. It wasn't that long ago, but let's be honest: if you're in the mood for pizza, and the restaurant only has these two options, you'll probably go somewhere else that has at least 15 ways to order pizza. That's because, nowadays, digital experience is at the core of most of our decisions as consumers. 
43% of all consumers would pay more for greater convenience; 42% would pay more for a friendly, welcoming experience. And, among U.S. customers, 65% find a positive experience with a brand to be more influential than great advertising.
Having a strong digital presence is no longer an option; it is key to improve your overall customer experience.
And if before designing a digital experience was simply a matter of choice between putting all your resources on mobile or on the web, today, as a service provider, you need to add a bunch of channels to the equation. From smartwatches and chatbots to echo devices and AR and VR, you name it.
As if that wasn't challenging enough, thanks to superbrands like Netflix, Uber, and Airbnb, customers' expectations are higher than ever. They expect personalized experiences that allow them to get from point A to B with zero friction. No matter what channels you're at, your customers' interaction with your brand needs to be consistent, elegant, convenient, friendly, and fast.   
Now, I'm sure you're aware of this new reality, so the question here is: unless you win the lottery or have endless financial and human resources, how do you compete with the Uber and Amazon of your market and meet your customers' great expectations?
Discover how 5 leading companies are transforming their digital customer journeys in months.  
Delivering a Digital Strategy: Expectations Vs. Reality
To answer that question, we need to understand what it is that makes Uber, Amazon, Lemonade, or Netflix such unique brands that we keep using them as experience role models. All these companies have four things in common.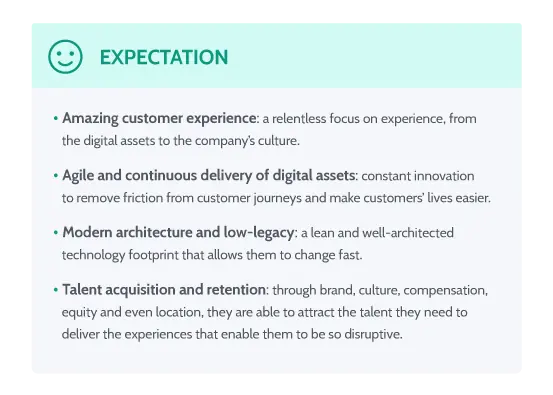 The problem is that, unfortunately, most companies' reality is slightly different:

So, when facing this reality, it may seem impossible to build a digital portfolio that is cross-channel, while meeting the speed, scale, and quality customers expect.
Building a Digital Experience Portfolio
The way to address this challenge is knowing how to build a digital experience portfolio successfully. The focus should not be on building apps, but in creating digital experiences. What I mean is, instead of going crazy and being present in every possible channel, you need to identify where your customers are. Start by answering a few basic questions like:
When will the customer use your product?
Are they moving, or are they sitting down?
Do they have their laptop or their phone?
If your product is designed for field service workers, mobility is crucial. So, maybe you should invest in a mobile app that works offline, but the desktop version can work online only. The key is to figure out your customer journey and how they interact with you before defining which functionalities should be where or which devices you should be in.
Great digital experiences start by building the right thing at the right time.
Now, I know what you're thinking:
"That's very easy to say, Mariana, but I haven't won the lottery yet, and there's a heavy legacy debt pulling my efforts down. Plus, I need my team to keep our existing systems alive; I don't have enough people to spare to focus on innovation and with the skills to build iOS, Android, Windows apps and all the other technologies I need to address all the new channels that keep popping up."
I hear you, I hear you. That's when finding the right strategy to architect for digital experiences, coupled with the right development platforms, can help.
If you want to learn more about how to build a digital experience portfolio, I encourage you to check out this webinar with Michael Facemire, VP & Principal Analyst at Forrester. In his session, Michael shares what the future of digital experiences looks like and how to choose the right digital experience strategy and platform that allows you to deliver new digital experiences at scale while ensuring consistency and quality.