A free app to help OutSystems customers manage the health and safety of their employees during this global crisis.
Like many organizations, OutSystems has made a sudden and rapid transition to a 100% work-from-home workforce. Also, like many organizations, our awesome people ops team has been working overtime to find ways to help employees work more effectively in this new reality, and, most importantly, to stay safe.
Being able to track the wellness and safety of employees is critical for organizations as they focus on business continuity and a need that surfaced quickly for our customer STEMCELL. Using OutSystems they built the "My Status" app in under a day and have now deployed it to over 1500 of their employees.
What's even better is that they donated the source code of the app to OutSystems so that we could make it available to the broader community. Our team has been busy getting it ready and we're now pleased to announce that we have made the "My Wellbeing" available in the Forge.
Check this video for a walkthrough of the app's features.
There are two parts to app that you can find in the Forge:
A backoffice app where managers can see the status, communicate with employees that might need assistance, track trends, and more.
A PWA/mobile app where employees can submit their status, communicate with their employer, and mark any equipment they may have taken from the office.
Our teams continue to work with customers to help them rapidly respond to the changing environment, and we're committed to giving back to our community where we can. As other applications become available we will keep you updated.
We're also delighted to see how our community has pitched in as part of the OutSystems COVID-19 Community Response Program. Check out the different ideas that are being brought to life.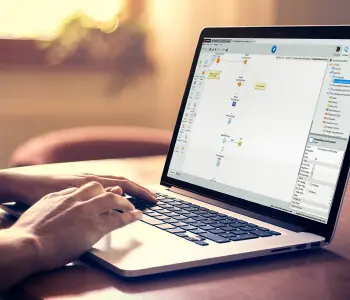 Use OutSystems Now!
Get your first app built in a few minutes.
It's free forever.