Nelson Mandela University, NTT DATA, and CANSA Unite to Raise Cancer Awareness in South Africa
Innovation Award Winner 2022
Social Impact
Those lacking literacy and health awareness in rural South Africa often have cancer diagnosed late or not at all. The Center for Community Technologies (CCT) at Nelson Mandela University saw the potential to raise community awareness, help citizens recognize symptoms, and seek earlier intervention. CCT's C-VIVE mobile app was born in a hackathon, which brought together CCT, OutSystems partner NTT DATA, and the Cancer Association of South Africa (CANSA). C-VIVE, now available on iOS and Android app stores, improves cancer awareness to save more lives.
Customer Experience

Mobile Applications
Challenge
How to Improve Cancer Awareness in Rural South African Communities?
The Centre for Community Technologies ("CCT") at Nelson Mandela University aims to help disadvantaged communities through technology. CCT promotes policy interventions and affordable technologies with significant potential for social and economic empowerment in poor communities.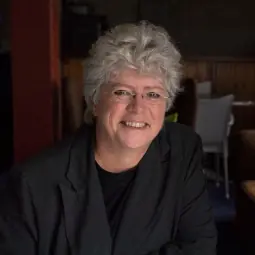 Realizing the prevalence of certain types of cancer in the Eastern Cape, CCT wanted to experiment to see whether a software application could raise cancer awareness and encourage earlier intervention to promote better outcomes for those in disadvantaged communities.
Darelle Van Greunen, Founder and Director of CCT, explains, "Research has shown that cancer patients rarely understand the disease, its treatment, its side effects, and the emotional impact the disease has on their lives and families. We thought that a mobile application could answer all these challenges."
Even in disadvantaged communities, an increasing proportion of people have access to smartphones, making a mobile app the cheapest, most accessible way to distribute information.
As Nelson Mandela University is a member of the OutSystems Education Program, Darelle knew that by using OutSystems, CCT could more rapidly experiment and explore the potential of this idea.
In 2021, Darelle saw an opportunity to participate in the Build for the Future hackathon in partnership with OutSystems, CANSA (The Cancer Association of South Africa,) and various OutSystems partners.
Why Nelson Mandela University chose OutSystems:
Speed-up development and improve agility

Deliver mobile applications

Deliver public-facing web and mobile apps
Solution
From Hackathon to Life-saving Mobile Application
The Build for the Future five-week hackathon involved 15 teams working on various initiatives for CCT and two other nonprofit organizations. To help the teams reach their objectives, an expert panel of OutSystems and industry experts provided regular feedback.
The panel also judged the hackathon teams to identify an overall winner and awards in four categories:
Applicability of the solution
Tech quality
UX/UI quality
Demo quality
NTT DATA was one of the participating partners and undertook the work as a pro-bono project as part of its sustainability strategy. João Leal de Faria, Director & Head of OutSystems Partnership at NTT DATA, explains, "The application needed to be easy to use for anyone, anywhere, irrespective of gender, age, education level, or circumstances at home."
NTT DATA, part of the NTT Group, is an innovative global IT and business services company headquartered in Tokyo. The company helps clients in their transformation process through consulting,...
Learn more about NTT DATA
Results
C-VIVE, a Culturally Inclusive App, is Now Available on iOS and Android
The hackathon allowed CCT to explore a range of approaches with multiple development teams. Ultimately, NTT DATA won the hackathon and the award for Best User Experience.
Crucial aspects of C-VIVE's design include:
Cultural Inclusion—The app is intuitive, and the content is easy to understand, ensuring adoption by a wide variety of users with different backgrounds. It uses carefully crafted illustrations and neutral colors to ensure that all users can easily identify with the app.
Gamification—Gamification features increase user engagement, showing users their progress through the content they have mastered.
Accessibility—The team paid great attention to text legibility, support for color-blind users, not overwhelming readers with too much text, and text-to-speech audio support for users who could not read.
Animations—Self-examination steps are illustrated with simple animations reducing the need to read long explanatory texts.
Support for Multiple Languages—The app supports Xhosa, Zulu, Afrikaans, and English to maximize inclusion.
Fully Offline Working—To minimize the need for data credit or WiFi access, the application and all content work entirely offline.
The app deals with lifestyle changes, diet, exercise, cancer symptoms, treatment, and risks. It also has a section for cancer awareness campaigns and telephone numbers to call for assistance and support.
The C-VIVE app is now available on iOS and Android app stores. Gerda Strauss, Head of Service Delivery at CANSA, The Cancer Association of South Africa, says, "Ignorance, myths, fears, and stigma contribute to misdiagnosis and late intervention. That's why we use every avenue, partnership, and opportunity to communicate the message. We firmly believe that knowledge can help beat cancer, and we have high expectations for C-VIVE's success."