What do Gartner and Forrester say about OutSystems?
Table of contents
Forrester and Gartner have a lot to say about OutSystems.
What does Forrester say?
---
In the Forrester Wave™: Low-Code Development Platforms For AD&D Pros, Q1 2019, Forrester says: "OutSystems sets the pace in feature breadth. Two characteristics stand out for OutSystems as a low-code vendor: its relentless addition of features for AD&D pros and its consistent delivery on road-map and strategy objectives. The vendor has delivered on its past goals, including native mobile apps, scale and reliability to tackle core transactional business apps, and global presence. OutSystems keeps pushing the boundaries of low-code platforms — into apps that process device readings and other streaming data, into AI, and into core business record-keeping systems."
Forrester lists the crucial differentiators of low-code platforms and their value as:
Visual configuration of virtual data models and integration: Reduces time to value and enables the embedding of data elements into forms, workflows, and business logic
Visual configuration of business logic: Lifts logic from code, reduces time, and simplifies change.
Responsive user interface and native app design: Provides engaging user interfaces that excite customers
Management and monitoring for application development and delivery process: Streamlines and speed development and increases developer productivity
Forrester identified OutSystems as the leader because we offer a complete, enterprise-proven platform that lives up to the low-code promise with:
Speed of delivery, even for complex applications
A strong commitment to rapid, low-code tooling for all aspects of application development, delivery, and maintenance
The most comprehensive and advanced platform for application management and administration
A development environment that enables organizations to use existing resources or non-traditional development talent
Forrester gave OutSystem the highest score in 17 of the 23 product capabilities; as a result, OutSystems tops all competitors in product functionality.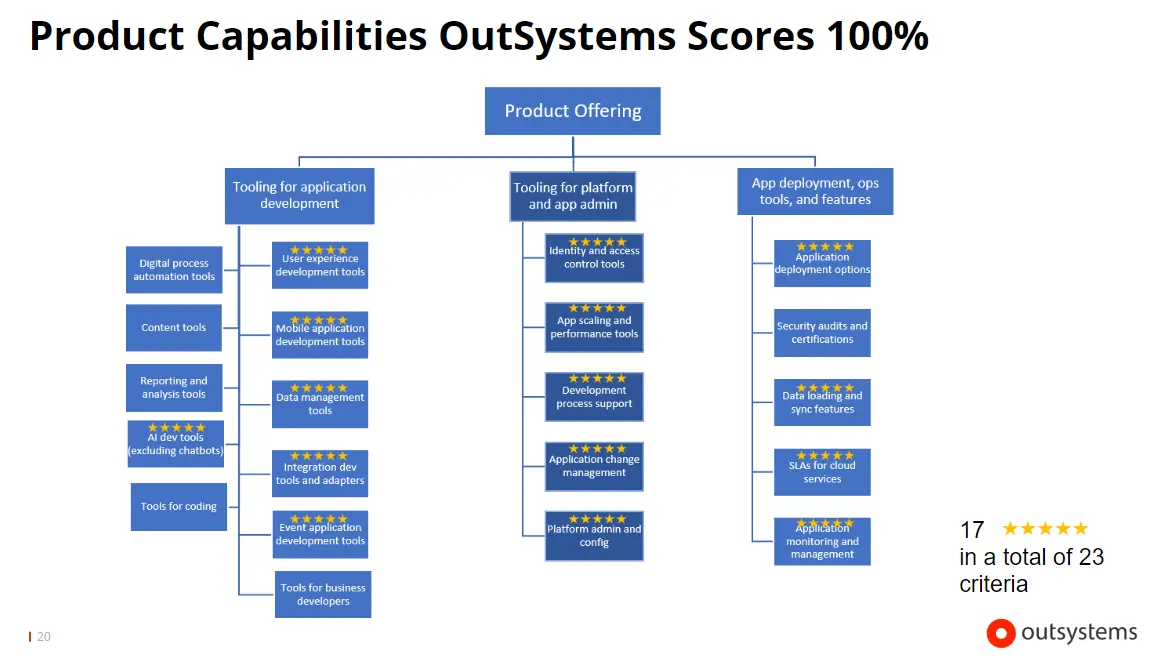 In addition, Forrester has identified OutSystems as a leader in a Forrester Wave™ report focused on mobile-specific low-code. According to Forrester, "Mobile low-code development platforms are an offshoot of the broader category of low-code platforms designed to support the particular needs of mobile apps." They then say: "These products go beyond general-purpose low-code development platforms by including features closely associated with mobile infrastructure services platforms or mobile middleware products, including support for mobile notifications, enterprise mobile management tools, and support for offline caching and filtering of data when devices aren't connected."
Forrester named OutSystems as a Leader, making the following points:
OutSystems strong performance "reflects its commitment to enterprise customers via extensive low-code tooling for semi-professional and professional developers."
OutSystems strengths include its "broad features and tools for database, integration, and collaboration, coupled with an extensive set of mobile features."
OutSystems customer references "like the easy maintainability of the apps they've created," and "the ability to use a wider range of developer skillsets to build mobile apps."
What does Gartner say?
---
Gartner has named OutSystems a Leader in two Magic Quadrants: the 2018 Gartner Magic Quadrant for mobile application development (MADP) and the 2018 Magic Quadrant for the high productivity application platform as a service (hpaPaaS).
Gartner recognizes that beyond traditional "mobile only" features, the new breed of mobile application development platforms must support the following:
App diversity including responsive web apps, wearables, and augmented reality
Full-stack, fast development, supporting everything from UX to back-end integration
End-to-end DevOps and life-cycle management of large app portfolios
Diverse enterprise use cases, including external-facing and internal-facing scenarios
Read the Magic Quadrant for MADP report in its entirety.
High-productivity platforms (HPAPAAS):
Streamline the software development lifecycle with hpaPaaS and DevOps.
Expand developer resources with citizen developers.
Support mobile and multichannel initiatives.
Accelerate integration (SaaS and legacy modernization).
Deliver on the promise of enterprise-grade.
Read the Magic Quadrant for HPAPAAS report in its entirety.
What does this mean, exactly?
---
Gartner and Forrester both recognize that, with our flexible, low-code platform, organizations can create mobile, web, SMS, email, chat and voice service touchpoints quickly and change them on the fly.
With OutSystems, organizations can pave the path to a new way of connecting with customers, employees, and partners as part of their digital transformation. We make it easy to transparently integrate these apps with existing systems and data sources, thereby enabling a broader number of people to build useful applications. But most importantly, all of this is done methodically, with governance, that fits in the operational and security guidelines of most IT organizations.
Whether you have a single mobile application or a mission-critical application, OutSystems is ready to help you build and deliver it quickly and then change it even faster.