Someone once said that an idea for an app is only as good as your ability to bring it to life. That's exactly right, and a key factor to the development process is having the right skills and the best software development product that empowers dev teams to transform good ideas into powerful apps.

Table of contents:
But that's not easy, particularly not in a time when every other day (< insert hyperbole for tension >) new vendors and technology pop up like mushrooms. For the low-code market alone, today there are hundreds of low-code vendors, a number that varies depending on what definition you use.
To find the right tool for your business, you've probably go through the following steps:
Decide what you want to achieve: you found a market gap and are looking for a tool that shares that experience focus.
Organic research: you've searched for who are the leading vendors in that tech market; using low-code as an example, you may have searched for something like "top low-code platforms".
Read the analyst reports on the industry: you've read the Gartner Magic Quadrants and Forrester Waves to help you identify the leaders within the tech space you're looking at.
Call the vendors: at this point, you have 4-5 favorites, so you give them a call.
Although this is a great way to evaluate software development products, there's yet another step that should be added to the list -- I'd even argue the most important one: users' reviews.
Users' reviews websites, like G2Crowd or Gartner Peer Insights, go beyond theories or quadrants. They let you see what actual users say about all aspects of a product and their relationship with the vendor, from usability to the quality of customer support. It's where people that have tried the different mushrooms tell you which ones are edible and which will make you have a (really) bad day.
To help organizations even further, every year, G2 Crowd, the most popular review site, launches the Best Software Products List where it ranks the world's best software companies and products based on authentic, timely reviews from real users.
Users Have Spoken: Best Software Products for 2023
Operating a software marketplace used by more than 60 million software buyers annually, G2 is the definitive online destination to discover, review and manage the technology that businesses need to reach their potential.
Its annual Best Software List ranks the top 100 products based on reviews across all categories they are a part of. To be included in one of G2's Software Products "Best Of" lists, a software product must receive at least 50 approved and published reviews during the 2022 calendar year. Scores reflect only data from reviews submitted during this evaluation period.
And OutSystems was named a 2023 Best Software Development Product--for the second year in a row!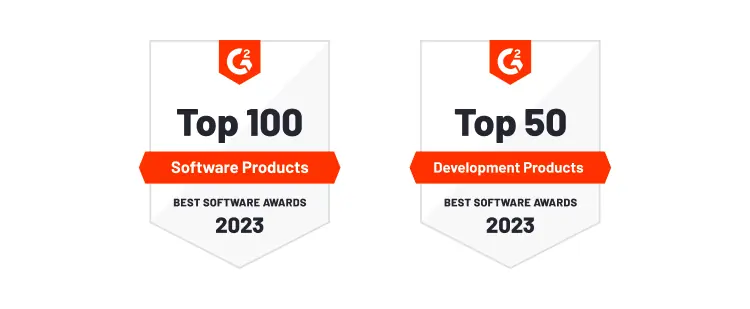 For us, it's a tremendous honor to get this validation from the people who use our product every day to bring their great ideas to life. It's a statement of the value and the experience that we strive to deliver to our customers.
As of the writing of this blog post, we've had 931 reviews, and a score of 4.5/5 stars, and we've been consistently named a leader by enterprise users in the Low-Code Development Platform space.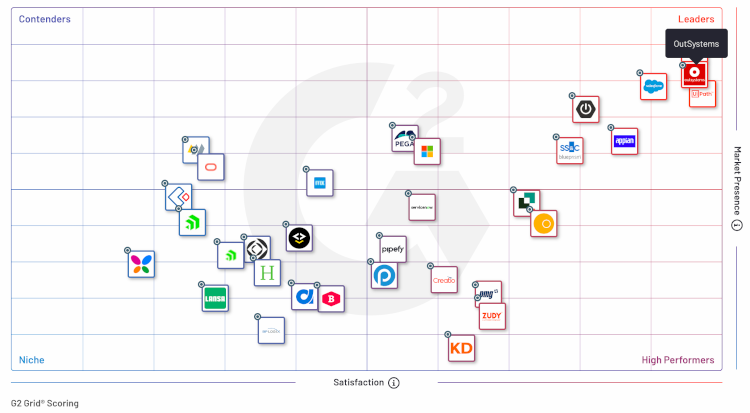 Here are a few trustworthy reviews written by real OutSystems users.
I'm not coming back to traditional development
"It has been less than a year since I transitioned from "normal" development to OutSystems and I am not coming back. As a developer my most valuable time is thinking about solutions, not being trapped in constantly learning about new frameworks and adapting to new syntax rules to bring a project to life. I find that the transition time between identifying what you need to do and starting to do it is extremely intuitive. I am experiencing productivity gains on a scale I did not expect and I am surprised by the large extent of possibilities offered by the platform."
- Software Developer
Multiexperience with easy integrations
"Building a single enterprise applications for multi-device experiences with easy integrations to external platforms and great security features makes OutSystems a leader in the low code world. It has great community support with readily available components to extend our applications. With quick deployments and monitoring support, it makes the life of a developer very easy."
- Principal Consultant
Thriving and collaborative community of developers
"For every tool in OutSystems, there will be documentation available. Apart from that, if we are struggling in creating any new things in OutSystems the community will help you. (...) If we are facing any issues while in runtime, it can be easily identified via debugging the code."
- Software Engineer
Full customization
"It's easy to learn and start developing applications very fast, allowing developers to start delivering value after a short training. It comes with many components and connectors out-of-the-box with the platform, and much more that are available in their marketplace for free. Applications developed with Outsystems are built in .NET and ReactJS, making them highly customizable as you can add custom code when you need it, both for the front-end and back-end."
- Team leader
About OutSystems
OutSystems is a high-performing low-code platform that gives enterprise developers the tools they need to build and manage entire portfolios of enterprise-class applications. Our mission is to give every company the ability to innovate through the power of software. Companies just like yours are using the OutSystems platform to do just that.
Why don't you give it a try for free and see it for yourself?