Since the COVID-19 pandemic hit, executives across different industries have been forced to make changes to their organization to increase the speed at which they're able to adapt and implement new solutions needed to resume business as usual.
Because of the need for social distancing, entire industries have had to reinvent their human interaction workflows around the world — be it for customers who you can't meet in person as often or at all and for employees who can't come to the office. This has created an enormous need for remote workforce solutions and communications.
However, according to the Speed of Change report, conducted during the Spring of 2020, only 24 percent of senior IT leaders and professionals stated they are able to cope well with change. Moreover, 61% of the respondents said it takes them between three and six months to deliver a mobile app, 62% when it comes to the web.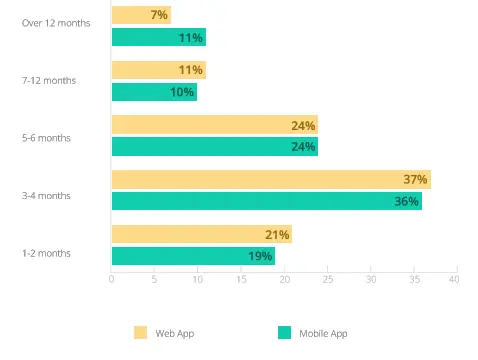 That's a lifetime in pandemic years. As a consequence, off-the-shelf communication services are flourishing, but, as there are no two organizations alike, they fall short when it comes to meeting the unique needs of the business.
Communication APIs In Times of Needed Agility
The build versus buy conundrum is an old one that can be applied to pretty much every software product. Off-the-shelf solutions give you the speed you need to get to the marker fast, but most times at the expense of security, flexibility, and a seamless user experience.
For that reason, several companies are turning to high-productivity, AI-powered, low-code app development platforms, like OutSystems. These robust rapid application development platforms provide you with the tools you need to build complete, compelling software solutions faster than with traditional tools, with the security, resilience, and scalability demanded by today's time. OutSystems, in particular, also offers you over 100 pre-built connectors for the most common apps and SaaS solutions, allowing you to extend your existing technology without slowing you down.
And at Vonage, we're in an ideal position. We deliver cloud communications via APIs that can easily be integrated into the OutSystems console: developers can just drag and drop a Vonage component into a visual workflow, and voila! - your workflow is now enabled with SMS, messaging, voice, or video. Adding Vonage APIs allows you to have full control of the user experience and branding, as the communications are embedded from your workflows: notifications and calls via SMS, social messaging, audio and video.
Three Examples of Rapid Innovation
According to an Accenture COVID-19 Patient Treatment Survey, "Users are embracing telemedicine and messaging." What does that mean for organizations? Communication workflows.
While Accenture references healthcare, this isn't the only industry trying to accommodate users with digital DNA. Communication workflows can be added to production processes across nearly any industry — healthcare, financial services, insurance, logistics, education and many others—when remote communication is the safest and best possible way for an organization to coordinate a team, do an inspection, deliver training, recruit talent, notify customers or alert staff.
"Organizations with more complex needs, such as telehealth and distance learning, require security and ease-of-use that can only be achieved by embedding video into an organization's current platform."

—Zeus Kerravala, Founder and Principal Analyst at ZK Research
Here's a look at three examples of rapid innovation in three regions using Vonage APIs in healthcare, insurance, and logistics.
#1 Transform Customer Journeys—Healthcare
Delivering Better User Experience, Manage Capacity More Flexibly—and Cut Costs
Who—Life Healthcare, a private hospital operator in Southern Africa and 10 European countries.
Challenge—How to continue to deliver medical consultations to patients in 11 different national languages in South Africa during the pandemic.
Solution—Rapidly deliver a telemedicine capability using the Vonage Voice and Video Component and OutSystems applications.
Results:
Continuity of care
Improved patient experience
Cost reduction with capacity optimization
#2 Enable Remote Intervention—Insurance
Remote Assessment Enhances Safety and Dramatically Cuts Processing Time
Who—A top 5 insurance company in North America, providing over 100 million policies.
Challenge—How to run claim assessment and processing safely during COVID-19.
Solution—This organization's Virtual Assist is a "see what I see" live video application that allows insurance adjusters to rapidly assess a vehicle's damage by interacting via video with repair facilities.
Results:
Better Customer Experience CX
Shortening the claims processing in some cases from days to minutes
#3 Bridge the Last Mile—Transportation and Logistics
Ease User Authentication and Transactions to Provide Safe Transportation
Who—Grab, a regional leader in transportation, logistics, and payments in Asia.
Challenge—How to scale communications and user verification processes in a region where carrier infrastructure can be unreliable.
Solution—A Vonage-powered customer notification and user verification process via SMS and Voice APIs.
Results:
High reliability
Low latency
High deliverability for business-critical applications
Transform Your Business with Communication APIs
In these strange times, companies need to find new and innovative ways to communicate and interact with customers and employees to ensure business as usual. Vonage's communication APIs provide you exactly that: a way to rapidly innovate in the way you communicate with customers and transform your users' experience. Try Vonage APIs, available as components on the OutSystems Forge marketplace, and get ready to transform your digital communication workflows.
And, in November 2020, you can experiment with OutSystems and Vonage technologies as the companies are organizing the global 2020 Developer Challenge together with LINKIT. Learn more about it here.
If you're not an OutSystems user yet, give OutSystems free edition a try.