Perspectives
Activating High-Performance When the Pressure Is On: NextStep 2022 Day 1 Keynote Highlights
NextStep 2022 wrapped up yesterday, and it was a resounding success. From big announcements, to Innovation Award winners, to amazing customer conversations, to technical deep dives into all flavors of the OutSystems platform, our software innovation summit had it all. As always, one of the top attractions was CEO Paulo Rosado's day 1 keynote. He and a few of his friends took us on a journey across several continents powered by a high-performance engine called the OutSystems low-code platform.
If you missed it or you want to relive the thrills and chills of this 50-minute ride, this blog post is for you. You can also watch the whole event on-demand right here.
The OutSystems Low-Code Platform: The High-Performance Engine That Could
The last time anyone counted, which was the summer of 2021, there were 266 platforms in the market identified as low-code. When you add "high-performance" to" low-code," however, that number drops to 1. Spoiler alert: it's OutSystems.
Paulo opened his keynote by clarifying that high-performance low-code is not the low-code you know. Instead, it's low-code that enables the development of strategic apps–the kinds that move the needle for your business–those mission-critical applications that scale to millions of users. This premium flavor of low-code focuses on improving the productivity of developers by delivering the neverending agility needed for change, an enterprise governance model, and DevOps capabilities based on best practices.
To illustrate his point, he mentioned that Western Union is using OutSystems to build all the front ends for its banking application and integrating them with their entire dev stack. Petrobras, one of the largest companies in Brazil, is standardizing all of their development on OutSystems. Three large departments in the U.S, government are creating apps that will serve hundreds of thousands of public employees.
He highlighted that, at OutSystems, we see these kinds of stories every day. Ones where CIOs, architects, team leaders become heroes. And developers get the quick and constant wins they need to stay engaged, motivated, and masterful. 
"This is how the future develops."
He announced, and then added that OutSystems was developing its own future, which segued into the next part of the keynote.
Isn't it Ionic? OutSystems Makes Its First Acquisition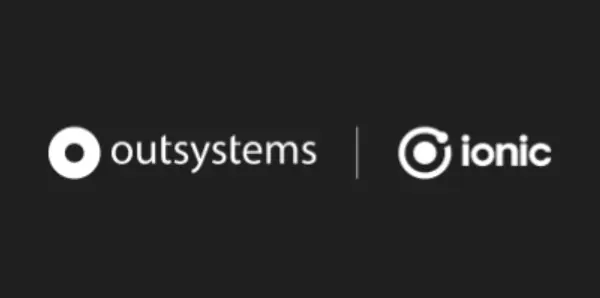 Right before NextStep, OutSystems announced its acquisition of Ionic, the open-source mobile development platform. Paulo was full of praise for Ionic, describing it as absolutely exceptional technology that builds on the OutSystems platform to enable developers to choose the tools that best fit their application requirements, expertise, and coding preferences.
The OutSystems platform and Ionic will give companies the tools that best fit their specific requirements for building the apps they need, with the dev team experience they have. For example, with Ionic Portals, developers using different technologies can work on the same product.
"This is a collaboration like you've never seen."
He told his virtual audience.
"Together, our market-leading technologies will extend the OutSystems platform to make anyone a full-stack mobile developer. Anyone."
He said. Web developers can up their game and develop business-critical mobile apps for the long term – cloud-native, serious apps that change business.
Speaking of cloud native….
OutSystems Developer Cloud: The Cloud-Native Silver Lining
It just isn't a NextStep keynote if there isn't news about all the cool things we've added to the platform in the past year. And Paulo did not disappoint, shining a big spotlight on our most revolutionary expansion of the platform yet: the OutSystems Developer Cloud, also known as ODC.
ODC, which started in our engineering labs as Project Neo, brings cloud-native to the OutSystems platform. Combining state-of-the-art architecture based on Kubernetes, Linux containers, microservices, and AWS native cloud services with DORA high performer-level CI/CD and enterprise-grade security, ODC sets a new standard in what is possible with low-code development.
Paulo also took time to share other new capabilities in the OutSystems high-performance low-code platform, such as the new AI Mentor System. This set of ground-breaking AI-based development and quality analysis tools built into the platform enhances the collective experience of your team. Think of it as having a team of experts on call, right inside the OutSystems platform, ready to help developers every step of the app dev way. These innovations in the OutSystems platform and ODC, Paulo noted, ensured that OutSystems was named in the Forbes 2022 Cloud 100 earlier this year.
"You'll see why."
He added before teleporting to Denver.
Western Union: The Fastest Way to Send … Paulo to Denver?
Okay, so the magic of virtual conferences and not teleportation enabled us to see Paulo interview Tom Mazzaferro, the Chief Data and Innovation Officer at Western Union, at the Western Union headquarters in Denver.
In the interview, Paulo and Tom discussed Western Union's digital initiatives, such as its global banking apps, and the speed of transformation and delivery that OutSystems offers Western Union. Tom told Paulo all about the evaluation process for choosing OutSystems and the three things that were top of mind:
Would it provide agility?
Could it help Western Union deliver great digital experiences at scale?
Could Western Union use low-code across the whole stack—front-end, integration, and back-end core systems?
The answer to all those questions was yes. And now Western Union is all-in on OutSystems. In fact, Tom emphasized that the OutSystems platform is an outstanding framework for flexibility and control. I'm sure it came as a nice surprise to Tom that Western Union was also an Innovation Award Winner–a well-deserved honor because Western Union is breaking the boundaries of what is possible in application development using high-performance low-code.
After Paulo finished the interview, we were all transported back to the NextStep stage, where OutSystems Vice President of Engineering Sílvia Rocha had an interesting conversation with João Aroeira Gonçalves, IT/IS Director - Delivery and Transformation at Portuguese Telecom and Media Company NOS.
For almost two decades, NOS has used OutSystems to dramatically elevate its business, culture, and customer experience, and OutSystems has enabled it to adopt all the new tech that's come along since the early 2000s. It was a great way to end the keynote.
"Helping You Rethink the Way You Develop and Deliver Software"
I've been writing about Paulo's keynotes for several years now, and in every one of them, he shares a golden nugget of his philosophy and vision. So, this is pure Paulo, 2022-style:
"At OutSystems, we are continuing to provide an entirely different approach to software development, to business innovation, to full company transformations. From the tools, to the people, to the level of productivity that exists in the process, to the ability to apply automation where you need it, to your people still doing cool work, we're all about helping you rethink the way you develop software."
If you'd like to experience the full impact of Paulo's keynote, along with the Western Union and NOS interviews, the session is available on-demand. If you're interested in seeing OutSystems in action, consider scheduling a free live demo. Or, take it for a test drive with our free edition.