In our digital world, customers expect frictionless and effortless experiences whenever they're interacting with a company. Anything below that standard is a subpar experience that will impact your app's adoption, customer engagement and retention and, therefore, your business profitability.
That was the challenge Entel was ready to face.

Table of contents:
Back in 2015, they cut the ribbon of their digital transformation journey by launching their first B2C mobile application. Eight years later, that mobile app has become the core of their omnichannel digital strategy and the main point of interaction with their customers.
In our annual event, NextStep, Eduardo Romano, Entel's Head of Digital Channels spoke about this journey, and how adopting a low-code digital factory was critical for success.
You can watch the full session here. For the main highlights, keep reading.
From traditional development to low-code
With 50+ years, Entel is Chile's largest telecom company. Led by Eduardo Romano, Head of Digital Channels, Entel started its digitization journey back in 2015 with the launch of its first customer mobile app — homegrown and built in Java.
While the app performed well, by 2019, customers were becoming more demanding and competition more aggressive. Romano knew they needed to innovate.
But because it was built in high-code, every time they wanted to add new functionality to the app, it was a difficult and expensive process.
They needed to find a better solution; one that provided them the power and agility to adapt, and innovate as their customers demanded.
So they started exploring other options that would enable them to continually evolve the app, expanding it from simple customer support app to a truly omnichannel experience across the entire organization.
After a thorough evaluation process, they ended up adopting the OutSystems low-code platform.
Evolving the application
The launch of the version 3.0 of the mobile app in OutSystems was a pivotal moment.
This was when Entel truly introduced a self-service model allowing customers to communicate with the company's services via the app instead of going to the physical store or calling the call center.
Although the app started as a mechanism to support their customers in their daily activities, it evolved to something bigger.
The company introduced personalization features that promoted different products based on the profile of the user, and the app became the fastest growing sales channel surpassing stores in terms of YoY growth, for selling data plans, cell phones, and extra accessories.
In just three years, mobile sales grew 32.2%.
As for user adoption, the app has surpassed 10 million downloads, becoming the second-most downloaded in Chile. (That's half the population!)
Building the end-to-end customer experience with low-code
Personalization is definitely a key differentiator for Entel.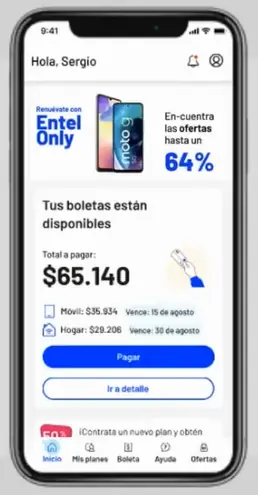 At Entel, high-quality and consistent customer experience involves an ecosystem of customized solutions, such as call center apps, chatbots, self-service portals, interactive voice response systems, and web applications that work in tandem to create a truly seamless, omnichannel customer experience, whether online or off.
"Regardless of which channels our customers choose to be served with, all our systems play a very important role in creating that experience. It's also the ability to serve our customers with very, very high standards at all times."— Eduardo Romano
To keep up with the demands of the business, Entel went from using OutSystems for developing a single mobile app to leveraging its full-stack capabilities in order to execute a broader digitization strategy — everything from customer-facing apps to mission-critical processes.
Now, a team of one hundred developers builds and manages Entel's portfolio of robust apps as part of its omnichannel digital strategy.
"OutSystems is a foundational technology of Entel, and pretty much everything that we will [develop] or are developing are customized solutions. Because we understand that those will be the ones that create our competitive advantage."
A unified omnichannel experience
Like Entel, many companies understand that pursuing an omnichannel digital strategy is imperative and an important competitive differentiator. Yet, unlike Entel, many struggle to build high-quality consistent interactions across channels with traditional development.
With a high-performance low-code platform like OutSystems, developers have everything they need to create and deploy applications that integrate with existing systems or external services and can run on any device, all in a single platform. There's no need for specialist mobile developers because the visual modeling language is the same regardless of the target touchpoint.
Whether you need to build one, ten, or an entire ecosystem of applications, high-performance low-code is what you can build on to get you there. And it will transform your team into a powerhouse of pro development.
Here are a few ways in which high-performance low-code enables digital factories:
Flush the app backlog by increasing developer productivity and delivering 5x more apps using low-code with AI.
Eliminate complexity with CI/CD built-in and security built-in, along with continuous updates and no app rewrite.
Instantly augment your existing team and minimize technical debt with UI/UX, security, DevOps, scalability, and compliance skills — while rotating developers with a minimal learning curve.
With high-performance low-code on the OutSystems platform, any company can deliver a cohesive omnichannel digital strategy without having to hire massive, highly-specialized, and expensive development teams.
From customer apps to internal portals to core systems, see how the OutSystems platform can help your organization build customized solutions faster.