The meaning of "digital transformation" can vary from industry to industry. For some organizations, it can be about modernizing core systems to boost efficiency; for others, it can be about delivering customer-facing mobile experiences.
But one thing is for sure: a digital transformation journey is not a close process with a beginning and an end. Rather, it's an ongoing journey where IT leaders must continuously adjust their business models, products, and services to adapt to new customer expectations, technology, and market demands and grow their business.

Table of contents:
2023 promises to be a rough year, with a war in Europe, supply chain disruption, a cost management policy, and an inevitable economic contraction. But IT leaders mustn't neglect their digital transformation and innovation strategy, or they risk lagging behind their competitors and being significantly impacted by the recession.
In this blog post, I'll share insights on what a successful digital transformation journey should look like considering the uncertainty the next few months hold to help you evaluate if you're making the right investments. I'll also focus on how the right technology can help you achieve your business goals and thrive in the next cycle.
Why Is Digital Transformation So Hard?
As a co-founder of OutSystems, I've seen and helped many organizations launch their digital transformation initiatives over the years. And no matter what industry they're from or what challenges they're facing that year — be it a recession, a public health crisis, or a new disruptive technology as it happened with mobile and the cloud — the obstacles to digital transformation are always essentially the same.

Scarce resources: There aren't enough developers for the worldwide development needs. In 2021, the tech talent shortage was 10%, which is expected to reach 20% by 2025, according to IDC. In addition, most top talent is absorbed by cutting-edge, elite tech giants that can offer competitive salaries and more enticing development jobs, leaving the "average company" struggling to attract and retain talent.
Massive backlogs: As organizations are pressured to become "software producers" and deliver unique and differentiating products to their customers, they have more work than their IT teams can deliver. And this trend only seems to escalate, as we're now seeing a growing demand for internal, employee experiences. In fact, according to Gartner1, employee experiences have surpassed CX in the list of CEOs' strategic priorities for 2023-24.
Technical debt: According to IDC, on average, 50% of applications in an organization are legacy, and of those, less than half have been integrated with modern development tools, like DevOps toolchains and integrated development environments. When organizations try to innovate, they need to integrate these aging systems or build apps on top of them which can be quite complex and expensive, leading to increasing technical debt.
Uncertainty: Digital transformation is hard because genuine innovation is a million miles from the comparative safety of incremental and linear business improvement. Embracing uncertainty and the need for experimentation is hard for organizations, and it gets even harder in times of economic contraction when C-suite leaders need to be very careful with the investment they make.
Software development complexity: Building enterprise-class applications is hard. Developing modern applications typically involves a number of different coding languages, development frameworks, and libraries, which come in and out of favor each year.
It's no wonder that so many companies worry that they're falling behind digital disruptors and startups. Even more now as they need to cut costs to cope with a potential recession. So, what can CIOs do about all these pressures? How can they respond?
Mounting evidence suggests that part of the answer is to use modern development approaches, including low-code development platforms, which can help combat the above-mentioned barriers.
It's important to note, however, that, like any other development technology, not all low-code platforms are equally effective or cover the same use cases. To better understand the low-code market, I invite you to read our article on the topic.
Measuring Digital Transformation: What Success Looks Like
Now, as I mentioned above, the concept of digital transformation can mean a lot of things for different companies. By now, it should be obvious to any IT leader that a digital transformation journey will always depend on the company's needs and should start with a clear definition of priorities and goals.
It goes beyond a simple technology strategy and delivering digital products. It's an ongoing journey. So, to ensure you're on the right track and making the right investments, you must measure the success of your company's initiatives. And that measurement needs to go beyond the number of apps launched.
McKinsey provides an interesting framework to help IT leaders monitor the progress of their digital journey based on five metrics that focus on revenue, profitability, market share, and efficiency.
Let's take a closer look at these metrics and explore why a high-performance low-code platform like OutSystems is the right partner for a successful digital transformation journey.
On a side note since in this section I'm focusing on the role of technology in supporting your digital transformation journey I'll skip metric four — the percentage of business leaders' incentives linked to value-creating digital builds. But please keep in mind that aligning initiatives across the whole organization is crucial to ensure that all organizational leaders are accountable for digital transformation and are driving tangible value.
1. Return on Digital Investment
The ROI of your digital investments is a key metric to evaluate your digital strategy's success. This included measuring the value provided by individual digital initiatives but also the overall initiatives and how they're collectively supporting the strategic organizational goals.
Here, investing in the right technology that allows you to evolve your digital and innovation strategy while cutting costs is key.
How High-Performance Low-Code Helps You Maximize Your ROI
According to Forrester Total Economic Impact™ (TEI) report, OutSystems high-performance low-code platform has a ROI of 506% and pays itself in just 5+ months. In a nutshell, OutSystems provides the necessary capabilities to:
Maximize productivity: namely, reusability, one-click DevOps, and high abstraction of coding.
Remove the complexity of changing, evolving, and maintaining apps.
Accelerate development and time-to-market.
Build new applications.
Improve the company's agility and efficiency.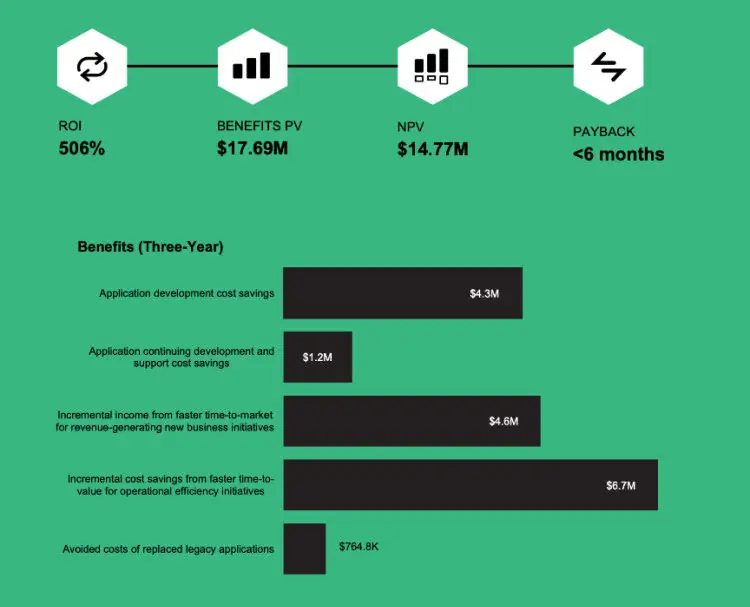 You can read the main insights here.
2. Percentage of Annual Technology Budget Spent on Bold Digital Initiatives
Most IT budgets are typically spent on keeping the lights on, namely infrastructure and maintenance. It seems pretty straightforward that you won't progress with your digital transformation journey if only a small percentage of your budget is allocated to innovation.
This is a tricky challenge for most organizations because they're stuck with business-critical legacy systems that are too expensive to replace. But that doesn't have to be an impediment.
What we're seeing now is more and more organizations shifting from monolithic approaches that don't provide them the agility they need to change and innovate, into composable, microservice architectures that are much easier to maintain and evolve. In fact, according to Gartner2, by 2025, more than 70% of large enterprises will move from a single-vendor monolithic ERP strategy to a more inclusive composable strategy3.
How High-Performance Low-Code Supports Business Composability
OutSystems high-performance low-code platform was designed with the principles of reusability in mind to help you create a true composable business to make the most out of your IT resources and accelerate innovation. You can reuse code and components at all layers of an application, from UI, business logic, and database.
OutSystems offers governance, reports to help users understand the network of dependencies between apps, and analysis of the impact of changes. All code is also available for discovery and usage.
Plus, OutSystems developers have access to a repository of reusable, open code modules, connectors, UI components, and business solutions to help speed up app delivery time. With over 5000+ components available, the Forge is the largest repository of open low-code components.
You can read how OutSystems promoted a composable architecture right here.
3. Time Required to Build a Digital Application
In a fast-changing world, how fast you go from idea to go-live is everything. If you take too long, you either risk being surpassed by your competitors, or when you finally deliver your product is already obsolete.
And it's not just about new solutions; it's also how quickly you evolve existing products based on user feedback and market changes.
This type of speed is often exclusive to what Google's DevOps Research and Assessment (DORA) identifies as elite performers. These are companies like Netflix that do multiple deployments per day, have a short lead time for changes, and are able to restore their services in case of downtime equally faster.
How High-Performance Low-Code Enables You to Be an Elite Performer
A high-performance low-code application platform like OutSystems can help a team stay focused on building robust, functional, reliable software in three important ways:
Bringing abstraction and automation to the development process: driving up productivity while reducing the need for specialized skill sets or hard-to-find talent.
Giving teams robust, reliable tools that have proven themselves suitable even for use cases with demanding data security and compliance requirements.
Constantly integrating the latest cloud-native development methods: exposing powerful new capabilities to teams without requiring extensive training or an extended learning curve.
Giving teams access to cutting-edge capabilities in areas such as security, performance, and dependency management, while abstracting away the need to acquire new skills or master unfamiliar toolsets.
4. Top Technical Talent Attracted, Promoted, and Retained
You need tech talent to deliver innovation. By tech talent I mean individuals with expertise in data engineering and analytics, design and user experience, and core technology. And as we've discussed above, not only are there not enough developers but the ones there are absorbed by tech giants with solid innovation programs in place.
So, for a successful digital transformation, it's also important to measure how well an organization is upskilling existing talent and how integrated your team is with business.
How High-Performance Low-Code Can Help You Attract and Retain Talent
A recent survey by OutSystems and Evans Data Corp about Developer Engagement showed that helping developers feel more productive and in control of their workload can be the key to retaining top performers and creating a culture where developers want to stay.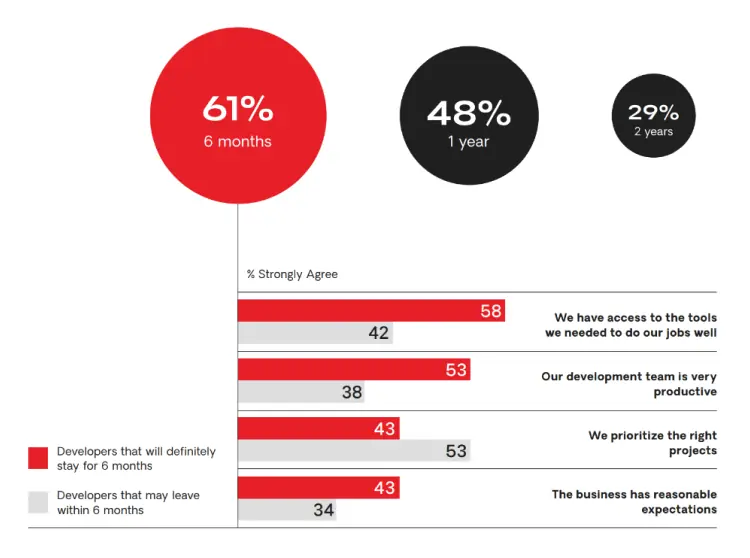 With OutSystems high-performance low-code platform, development teams can get up to speed and become productive in as little time as one week, because OutSystems uses familiar software development constructs that developers already know if they have used other technologies.
The report also showed that:
Developers are 58% more likely to be satisfied with their tools when using low-code rather than traditional development;
Developers using low-code are 75% more likely to report being promoted than their traditional development colleagues.
In addition, OutSystems promotes a "fusion team" approach, where development teams and business stakeholders work collaboratively to deliver the apps the business needs fast and right. This is possible thanks to its visual development capabilities that allow organizations capitalize successfully on developer knowledge and business expertise.
Design Your Digital Transformation with Low-Code
Digital transformation has been around for decades now, and it's a concept that is often overused and abused. Still, in 2023, although we're all very much aware of the importance of a digital strategy for sustainable growth, implementing a successful digital transformation journey is still a struggle for many organizations.
That's why measuring the impact of your digital initiatives is of the utmost importance to understand where your digital journey stands, and if you're making the right investments. Digital transformation is more than launching new products and saying "yes" to all innovation initiatives. Particularly in a time when cost saving is the watchword.
It's about making the right investments.
And in that aspect, the right technology plays a crucial role. Modern development platforms like OutSystems high-performance low-code empower your team to surpass the hurdles to digital transformation we discussed above and support a successful digital journey.
If you want to learn more about high-performance low-code, I invite you to visit our OutSystems Low-Code Academy. There, you'll find several assets, from blog posts, reports and webinars with everything you need to launch your digital future with low-code.
---
1Signature Series: CEO Concerns 2022-23 — Implications and Actions for CIO.
2Predicts 2021: Time to Compose an ERP Strategy to Outpace Disruption - Gartner.
3Predicts 2021: Time to Compose an ERP Strategy to Outpace Disruption - Gartner.