The tech talent shortage is a major concern for IT leaders. According to industry analyst Gartner, the increasing adoption of new digital technology is making it even harder for organizations to keep up with the modern technology skills that they need to drive digital innovation initiatives:
"Nearly half of the IT workforce is in urgent need of developing skills or competencies to support their digital business initiatives. Skill requirements to keep up, such as artificial intelligence (AI), machine learning, API and services platform design and data science, are changing faster than we've ever seen before."
As we discussed in the previous post of this series, the demand for application development appears to be at an all-time high, up 60% from last year according to the over 3,300 respondents who contributed to this year's State of Application Development research report. Burgeoning demand, scarcity of skills and lengthening IT queues pose multiple risks to organizations. Increased costs, more outsourcing, and the rise of shadow-IT from impatient business departments, are just three challenges which spring to mind.
In the research report, IT professionals shared details of how their organizations were responding to these IT skills challenges, and whether they've made progress since last year. Here's what we learned.
Size of the Development Team
We asked whether the number of developers employed by organizations was higher, lower, or about the same compared to last year. Only 7 percent think their app dev team has shrunk, 36 percent say their team has grown, and 44 percent say it is about the same.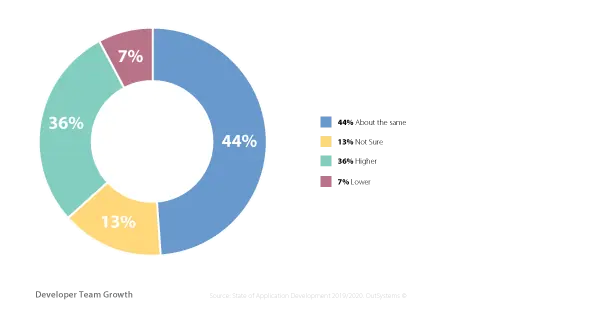 Hiring Developers and Talent Shortage
Over two-thirds of the respondents hired web developers, and over 40 percent say they had hired full-stack and mobile developers over the past year.
However, only 15% of respondents described such recruitment as easy, and for many specialties, recruitment was described as hard or very hard. Artificial intelligence/machine learning, cybersecurity, IoT, and full-stack developers were listed as the most difficult to hire.
Consultants and Outsourcing Development
Twenty-eight percent of respondents told us that they've outsourced some development to increase their delivery capacity.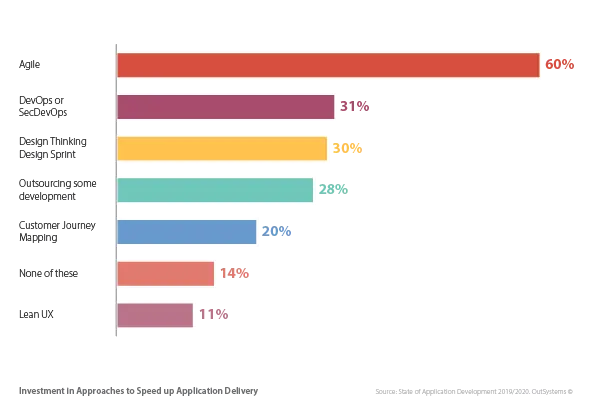 Respondents also told us which app dev skills their organization are likely to source from consultants or outsourcers in the next year. Even though web developers were described as easier to hire than any of the other specialists, 15 percent of respondents expect to partly source their requirements from consultants in the year ahead.
Overcoming the IT Skills Gap
If your organization has recently hired or tried to hire developers with the latest web development skills, mobile development skills, or both, perhaps these statistics confirm that you are not alone in finding this a challenge.
The better news is: our research went much further than quantifying the problem.
Our respondents told us about the new sourcing and development approaches they are using to fight back in the technology skills drought.
And, the analysis we provide in the full survey report shines a light on which of these approaches are producing results. A few of those highlights follow.
Adoption of Low-Code Development Platforms
We asked respondents whether a no-code or low-code development platform was currently part of their IT strategy. Forty-one percent say that their organization is already using such a platform, and a further 10 percent say they will start to use one soon.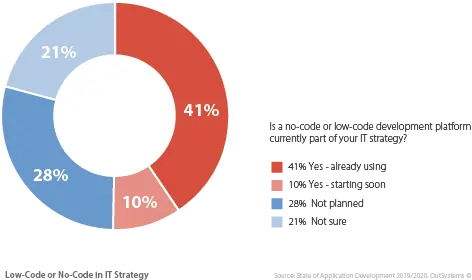 Use and Governance of Citizen Developers and Shadow IT
We asked respondents whether shadow IT was a risk for the organization and if they had citizen developers. Fifteen percent of respondents admitted that shadow IT was a probable risk to their organization, while 49 percent say that citizen developers existed in their organization.
However, without suitable governance, citizen development is arguably akin to shadow IT. So we were keen to dig deeper into how effectively organizations thought they were governing the efforts of citizen developers.
As you can see in the figure below, the presence or absence of a low-code development platform appears to have a marked effect on such governance. Thirty-seven percent of low-code users describe significant success at governing such development, whereas 35 percent of respondents whose organizations are not using low-code describe ineffective governance, which could result in risks for their organizations.
Low-Code Adoption Can Help You Reskill, Recruit, and Retain Developers
Although citizen development needs to be part of your response to the developer talent shortage, merely dropping in a low-code or no-code development platform and passing the reins to citizen developers is not the answer, as I have previously argued.
As discussed in a previous post, adopting low-code can be a formidable support in the quest to Reskill, Recruit, and Retain Developers. With IT at the helm and appropriate governance in place, low-code can help organizations:
Increase developer productivity.
Retrain legacy developers.
Expand their developer pool.
Shorten ramp-up time for new hires.
The Proof That Low-Code Is Delivering
According to the opinions provided by the 41 percent of respondents who are already using low-code, it is making a significant difference to their digital transformation efforts. Here's a quick summary of the advantages they told us they are experiencing.
Compared to those who are not, respondents who are using low-code are:
26% more likely to describe their organization as satisfied or somewhat satisfied with the speed of application development
11% more likely to deliver web applications in four months or less
15% more likely to deliver mobile applications in four months or less
20% more likely to score their agile maturity as level 3, 4, or 5
12% more likely to say that their app dev backlog has improved since last year
Reporting a 16% higher self-assessment score for digital transformation maturity.
For the full low-down, we hope you'll read the full report.