The tech talent shortage continues to be one of the major concerns for IT leaders today. The digital skills drought was flagged in Gartner's 2019 Emerging Risks Survey as the top emerging risk, followed by privacy regulation, and the pace of change. With the coronavirus outbreak changing the rules, companies were pushed to the digital sphere almost overnight. They've rapidly embraced new technologies to support remote working and provide new or improved digital channels for customers.
In 2020, digital transformation is no longer a merely competitive factor; it's a matter of survival. Organizations that have modern IT architectures have the advantage. But burgeoning demand, scarcity of skills, and lengthening IT queues pose multiple risks to organizations: increased costs, more outsourcing, and the rise of shadow-IT from impatient business departments, are just three challenges which spring to mind.
And with "every company becoming a software company," to quote Satya Nadella, the law of supply and demand comes into action. "Hipper" companies like Google and Amazon have the upper hand, with deeper pockets and desirable locations. But that's not the reality for most organizations, which continue to struggle with their old systems and don't have such easy access to the talent.
In our recent research report, Speed of Change, we asked 2,200 IT professionals to share how their organizations are responding to these IT skills challenges. Here's what we learned.
Insights from the Speed of Change Report
To better analyze the survey results, we divided the respondents into two categories: leaders and laggards. This division was made based on the answers to three questions:
A self-assessment using Prosci's "Organizational Agility Framework." (This asked respondents to assess their organization's ability to adapt to change—both planned and unplanned—and asked whether their organization was able to outpace its industry peers when implementing change.)
We asked respondents to describe their company's agile maturity using a five-level maturity model.
We asked respondents to describe their progress with digital transformation using a five-level maturity model.
Leaders

Laggards

Confident in their ability to respond to change
Deep in their adoption of tactics like Agile
Often deliver software projects quickly (1-2 months)
Deploy software updates and releases daily or multiple times per week

Typically deliver software projects in 3 months or more
Just getting started or in the initial stages of Agile adoption
Slow to change
Tech Talent Shortage: Leaders Versus Laggards
Both leaders and laggards are affected by the skills shortage, which hinders their ability to rapidly adopt modern IT architectures needed for organizational agility and adaptability. However, these challenges are more keenly felt by agility laggards.
When asked how they would evaluate the degree of difficulty in hiring full-stack developers, 21 percent more of the laggards responded difficult or very difficult when compared to leaders. Furthermore, 19 percent of the leaders responded "easy or very easy" against 6 percent of laggards.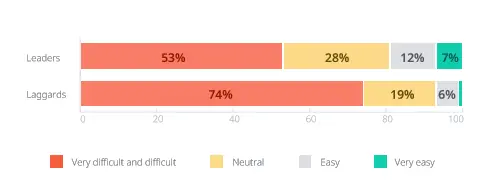 When asked about the top causes of application delivery delays, almost 50 percent of the laggards identified the lack of development skills as one of the leading reasons, versus only 13 percent of the leaders.
So, the question is: why do leaders have less of a challenge hiring full-stack developers?
The main reason is the approaches and tools leaders have invested in (I'll get to these in a bit), and the kind of work developers get to do. Rather than working on keeping legacy systems alive, they get to work on innovative projects and use the latest tools, languages, and frameworks. Understandably, those with the latest development skills don't want to work where their skills will atrophy.
Innovation versus Maintenance
Looking at the amount of time organizations spend on building new applications rather than maintaining or replacing old ones, there's a clear divergence between leaders and laggards. Laggards report that feature fixes, "keep the lights on" repair work, and various forms of technical debt dominate their time. Leaders claim to devote more of their application development effort to build new applications.


Maintaining legacy systems and attempting to coax integration and digital-cooperation from them take a big bite from the IT budget. Legacy systems are like a dead weight that slows down any innovation, leading to lengthening backlogs. Leaders with modern architectures handle changes and updates quickly. They have shorter backlogs and adapt to changing customer needs and preferences, or other disruptive forces much more rapidly.
Investment in Approaches and Technologies
We also wanted to understand what technology and approaches different organizations were investing in. Conceivably, do these have a bearing on recruitment pulling-power?
We found leaders invest significantly more in customer-centric practices, such as Agile, design thinking, and customer journey mapping and are twice as likely than the laggards to invest in DevOps practices. They were also twice as likely to invest in containers and microservices technology and new programming languages or frameworks.
By contrast, laggards were three times more likely not to use any of these approaches and more than twice as likely to outsource some development, hampering their agility and ability to deliver customer experience improvements that keep them competitive.

Bridging the Gap
Bridging the tech talent gap is crucial to meeting the agility and adaptability demands in this "digital urgency" era. But, as our survey reveals, for the majority of companies, bridging the tech talent gap is a long uphill struggle, made even harder if you're dragging the deadweight of aged legacy systems behind you.
Gartner's Digital Talent Gap Survey recommends that organizations should look beyond the traditional talent strategies of recruitment and training and instead leverage work design strategies — focused on role structure, workflow, and systems enablement. Although I admit that Gartner does not spell this out, perhaps OutSystems should be considered as such an enablement system? It certainly streamlines the approach and workflow to building and deploying software, and in my experience, helps business and IT teams work together in a more agile and collaborative way.
Today there are application development platforms that are easy to learn and suit the needs and skills of the developers that laggards already have. These options ensure that developers can work across a wide range of development projects—web, mobile, and backend services—all using the same skill set and IDE.
If you want to learn more about this topic, I invite you to take a look at NextStep 2020, OutSystems annual conference now available on-demand. With hours and hours of free content, you'll have the opportunity to learn more about OutSystems and how to upskill your existing talent.