Lotus Notes once ruled the IT world, and I was lucky enough to be part of that story. I joined Lotus Development in 1994, survived being acquired by Big Blue, and for many years lived and breathed the Notes and Domino world. I "bled yellow," as the saying goes. But regimes come and go, and Lotus Notes was not immune to changes in technology and end user expectations.

Fast forward to 2019. In my first few weeks with OutSystems, I realized that the OutSystems IDE (known as Service Studio) felt like the 21st century version of Domino Designer. Both built applications utilizing a drag and drop metaphor, enabling users to circumvent the pain of writing traditional code. However, that's where the similarities end.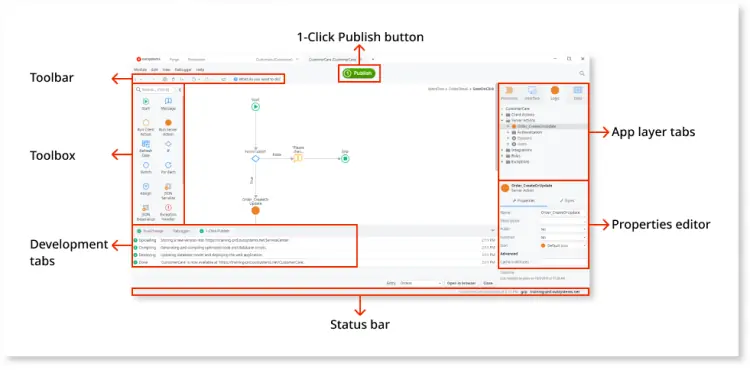 Technologies change, as well as business requirements. Companies now need applications that scale without effort, target internal users, or delight their customers. Companies need applications that can integrate seamlessly with solutions like Salesforce and SAP, and that have a killer UI employees love to use.
And then there's governance. I've talked to people who have hundreds (if not thousands!) of Notes applications, but with no clear idea of what's inside them or the risk they face if the applications are turned off.
This is a result of "Notes sprawl," where databases were created unchecked to solve small and large problems. Microsoft's SharePoint faces a similar issue: When left unchecked, SharePoint team sites and applications grew like mushrooms, filling with information that was challenging if not impossible to maintain.
Introducing OutSystems as a Replacement for Lotus Notes
Like Notes or SharePoint, OutSystems offers the same ease of app development, but with a big distinction: OutSystems is a high-performance, low-code development environment giving professional developers a platform to build the apps that matter to their businesses. Think of it as a set of power tools to turbo charge professional developers, and you begin to get the idea.
As the clock continues to tick on Lotus Notes and Domino, many companies are looking to rebuild their Lotus Notes applications on alternative platforms. They need more agility, more readily available resources, and even easier integrations to other systems. They also need to attract younger developers, as most Notes and Domino developers are on the path to retirement.
OutSystems can work with your existing Notes and Domino applications and data, and along with 570+ other systems via OutSystems Forge — a repository of reusable, open code modules, connectors, UI components, and business solutions to help speed up app delivery time.
Best of all, OutSystems meets you where you are: migrate your apps completely, integrate them into your other solutions, or use a hybrid approach that integrates them now as you prepare to migrate later.
Domino Connector: The Bridge Between Domino and OutSystems
While customers like Logitech, Schneider Electric, and Sarawak Energy chose to migrate their aging Notes applications to OutSystems, the phased, hybrid approach is a popular, risk-free option.
That's why we've collaborated with T4S, a long-time OutSystems partner with deep Lotus Notes and Domino experience, to create a Domino Forge component that offers easy integration from an existing Domino application (like an employee directory or help-desk system) for an OutSystems application to consume. To get a better understanding of the solution, you can watch this webinar.
This component is meant to support the integration of data in Domino databases into OutSystems applications, enabling coexistence as well as providing a migration path for the data.
The Domino Connector wraps a subset of the Domino Access Services REST API, with a focus on retrieving database, view, and document data. Future enhancements are planned to extend the Domino Connector to support data creation and updates. The benefit of this connector is that you can achieve the vision of low-code Lotus Notes without having to stop using your data and applications, reducing business disruption.
You can learn more about the Domino connector here. If you're interested in learning more about what a low-code Lotus Notes alternative looks like, check out our ebook, 5 Steps to a Successful Notes and Domino migration.